Brighton Road
ROAD MANAGEMENT PLAN FOR BRIGHTON ROAD
In 2012 the department released a draft Road Management Plan for the management of traffic on Brighton Road.
The draft plan contained proposals for the management of traffic on Brighton Road from the intersection with ANZAC Highway (Glenelg) to the junction of Schofield Road (Seacliff Park).
This plan considered road function and objectives and the needs of people who drive on, cross, live or work alongside the arterial roads within the area.
During the consultation period DIT engaged with stakeholders and the local community to seek feedback on the draft RMP. The draft report was on public display from 27 February to 6 April 2012 at:
City of Holdfast Bay Civic Centre, 24 Jetty Road, Brighton
City of Marion Council foyer, 245 Sturt Road, Marion
Bayside Village Shopping Centre, corner of Jetty Road and Brighton Road, Glenelg
This process enabled the community to be actively engaged in the decision making process and to assist in finalising details within the RMP for Brighton Road.
The updated RMP provides an overview of the existing traffic operational and safety issues along Brighton Road and provides recommendations for improvements on Brighton Road between Anzac Highway and Schofield Road. The update also includes any infrastructure changes made since the original RMP and the latest crash statistics.
Any recommendations identified as a part of this RMP are currently unfunded. Funding for any improvements will need to be considered against other state wide priorities in future financial years.
This approach ensures that the funds available each year are allocated to the projects where the greatest benefit can be provided to the community as a whole.
Copies of the final plan are available here (PDF 5.67MB)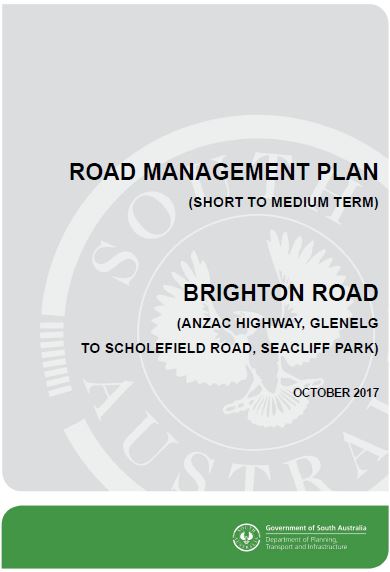 If you require further information about the plan please phone free call 1300 794 880 or email dpti.communityrelations@sa.gov.au.