Welcome to the new suburb of Eyre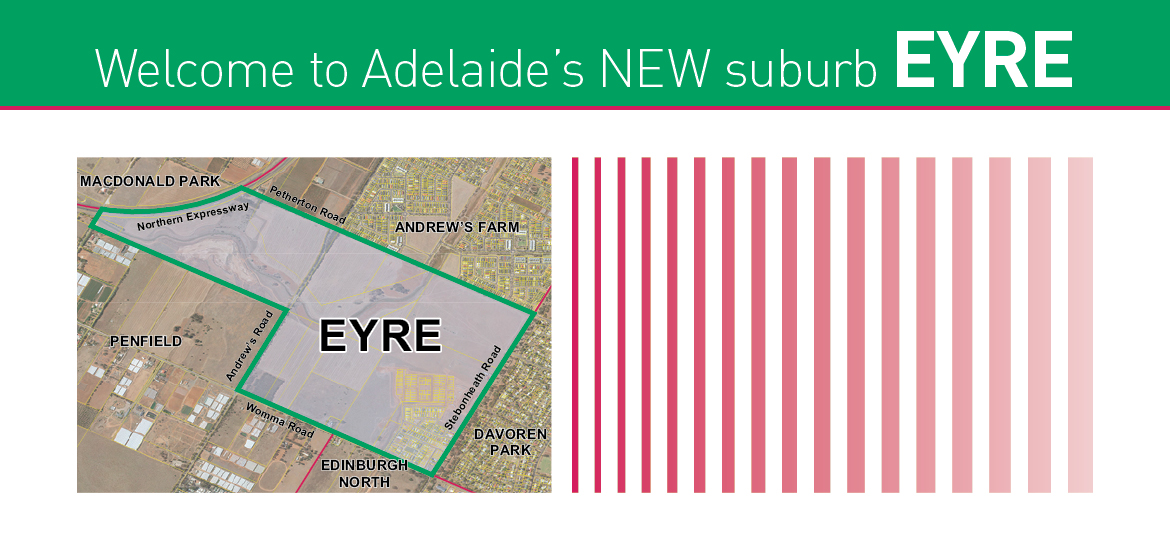 From Tuesday 31 October, residents living in the area bordered by Womma, Stebonheath, Petherton and Andrews Road have become part of Adelaide's new suburb, Eyre. This means your address may need to change and you may need to update some of your personal contacts.

The South Australian Government is here to help. Other location details such as council rates, Australia Post and emergency services will be updated by the State Government and your local council.
See the map (PDF, 976 KB) showing the new suburb of Eyre.
Why?
This suburb renaming will align residents and rate payers currently residing in the new development of Eyre with the City of Playford Council.
This will provide improved access for amenities such as post and emergency services, and a feeling of being better connected to the City of Playford Council.
Community consultation saw a vast majority of support for this change.
When?
The naming of the new suburb Eyre comes into effect from Tuesday 31 October 2017.
What do I have to do?
It is important that you update your address with any organisation that you have dealings with. The following list may help you with organisations to contact.
Essential
Employer
Finances
Bank / Credit Union
Financial Aid
Investments
Insurance
Health Insurance
Dental Insurance
Life Insurance
Car Insurance
Home / Contents Insurance
Utilities
Gas
Water
Power
Phone / Internet service provider
People
Doctor
Dentist
Other health care professionals
Government Agencies
Australian Electoral Commission
Australian Tax Office
Concession Cards
Motor Vehicles
Motor Registration
Medicare
Centrelink
Child Support Agency
Seniors Card
Veteran's Affairs
School, TAFE, University
Other
Security systems
Internet subscriptions
Mail Order catalogues
Newspaper and magazine subscriptions
Union affiliations
Sporting clubs
Loyalty programs and store cards (Fly Buys, Myer One, Woolworths, Coles etc.)
What will others do?
The Surveyor General through the Geographical Names Unit, will update location and address details for the following organisations:
Australia Post
SA Police
SA Ambulance
Metropolitan Fire Service
Country Fire Service
Government suburb and post code database
Land's Title Office
Location service providers
The City of Playford Council will update their database for rates and other council related correspondence.
View the fact sheet (PDF, 976 KB) delivered to all residents affected by this suburb renaming.
More information
Visit the sa.gov.au web page for more information about place name proposals and name changes.