Strzelecki Track Upgrade and Sealing Project
The Strzelecki Track
The Strzelecki Track is a 472 km unsealed rural road that links the towns of Lyndhurst to Innamincka in the north east of South Australia. It is a vital supply link for major oil and gas facilities located near Moomba, in the Cooper Basin, and is an essential transport corridor for outback communities, tourism and pastoralists. The track is subject to occasional closure during the winter months when the road is impassable due to flooding.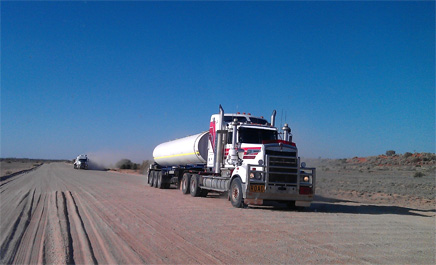 The unsealed road contributes to higher direct freight costs (due to slow and unreliable travel times), high supply chain costs and increased likelihood of a crash.
Latest news
The first 50km of the Strzelecki Track has been sealed and is now open to traffic.
The $125 million stage 2 is jointly funded between the Federal and South Australian governments and is expected to commence in June 2021.
A further $64 million was announced in the Federal budget in May 2021 towards completing the seal of the track and delivering this vital connection between South Australia and Queensland.
Strategic context and benefits of the project
The Strzelecki Track upgrade and sealing project is a key recommendation in the Roadmap for Unconventional Gas Projects in South Australia, released in 2012.
The project will involve the upgrade and sealing of the Strzelecki Track and the 26km Adventure Way road link from Innamincka to the Queensland border.
The completed project will comprise of:
a two lane road (3.5m lane width) with 1.0m sealed shoulders, constructed on the existing alignment; and
targeted floodway works along the road.
Direct benefits of a sealed road include:
improved transport reliability
faster travel times
less short term delays due to wet weather and flooding
lower transport operating costs; and
reduced crash costs.
For further information about the project refer to the Project Fact Sheet (PDF, 74 KB) and the Summary of benefit components (PDF, 72 KB).
Progress to date
In February 2014, the South Australian Government submitted a business case to Infrastructure Australia for assessment. On 29 September 2015, Infrastructure Australia announced that the Strzelecki Track upgrade and sealing project achieved an "early stage" rating on their Infrastructure Priority List. On 17 February 2016 the Australian 15 Year Infrastructure Plan and Infrastructure Priority List was released. The Strzelecki Track sealing and mobile coverage project was identified as a Priority Initiative by Infrastructure Australia. The South Australian Government has earmarked the Sealing of the Strzelecki Track for analysis by Infrastructure SA.
In June 2020, the South Australian Government announced it is investing $10 million to seal the first 50-kilometres of the 472-kilometre Strzelecki Track, beginning immediately north of Lyndhurst. The project is expected to commence in the third quarter of 2020, with completion expected in the last quarter of 2021, weather permitting.
Strzelecki Track Map
[NOTE: Click on the below map area to see an enlarged PDF, 585 KB view.]