Nottage Terrace and North East Road Intersection Upgrade
About the Project
The Australian and South Australian Governments are jointly funding (50:50) the $6 million Nottage Terrace and North East Road Intersection Upgrade. The upgrade is expected to support approximately 10 full-time equivalent jobs over the life of the project. The Department for Infrastructure and Transport (the Department) is responsible for delivering this project.
North East Road is a major commuter corridor providing an important connection between the CBD and Adelaide's north-eastern suburbs. This intersection upgrade will increase the capacity for vehicles turning left onto North East Road from Nottage Terrace, creating an overall improvement of traffic flow for vehicles travelling between Main North Road and North East Road along Nottage Terrace.
Approximately 62,000 vehicles use this intersection daily, and it is currently over capacity in both the morning and afternoon peak. Drivers using the intersection are experiencing heavy congestion. Currently, traffic queues to turn left from Nottage Terrace onto North East Road, resulting in long delays for traffic particularly during the afternoon peak period. This also disrupts vehicles heading north-east from Northcote Terrace onto North East Road through the intersection.
During the five-year period between 2016 and 2020 there were 50 reported crashes at the intersection. Of these reported crashes, there was one serious injury crash, 11 minor injury crashes and 38 property damage crashes. 40% (20) of the crashes at the intersection were right turn crashes.
When speaking with the community about the Main North Road and Nottage Terrace intersection, feedback was received that an upgrade was also required at this intersection.
Project Benefits
The intersection upgrade is expected to:
improve travel times, particularly for drivers turning left from Nottage Terrace onto North East Road in the afternoon peak period
improve bicycle facilities
improve safety for road users.
This work will complement the recently completed Main North Road and Nottage Terrace intersection upgrade.
Proposed Design
The concept design has been developed to address the project objectives, work within the site constraints and consider all relevant environmental, social, safety and economic factors. It has also been informed by the preliminary site investigations that were carried out in late 2021.
This solution aims to balance factors including traffic performance, safety improvements, project cost and impacts.
The design features include:
widening of Nottage Terrace (north side) to accommodate two left-turn lanes onto North East Road
upgraded pedestrian crossings and traffic islands at the intersection, including new pedestrian crossing lights and ramps
road re-surfacing and new line marking
a new eastbound bike lane on Nottage Terrace through the intersection
new and upgraded traffic signals, road lighting and drainage.
As part of this proposed intersection upgrade, it is necessary to remove the right turn from Stephen Terrace to North East Road (during the peak periods only) and remove the parking lane on the northern side of Nottage Terrace (between Corbin Road and Hawkers Road). This will provide an optimum traffic performance and address the current issues at the intersection
The concept design illustrates the new intersection layout. Further detailed design work is required before the design is finalised.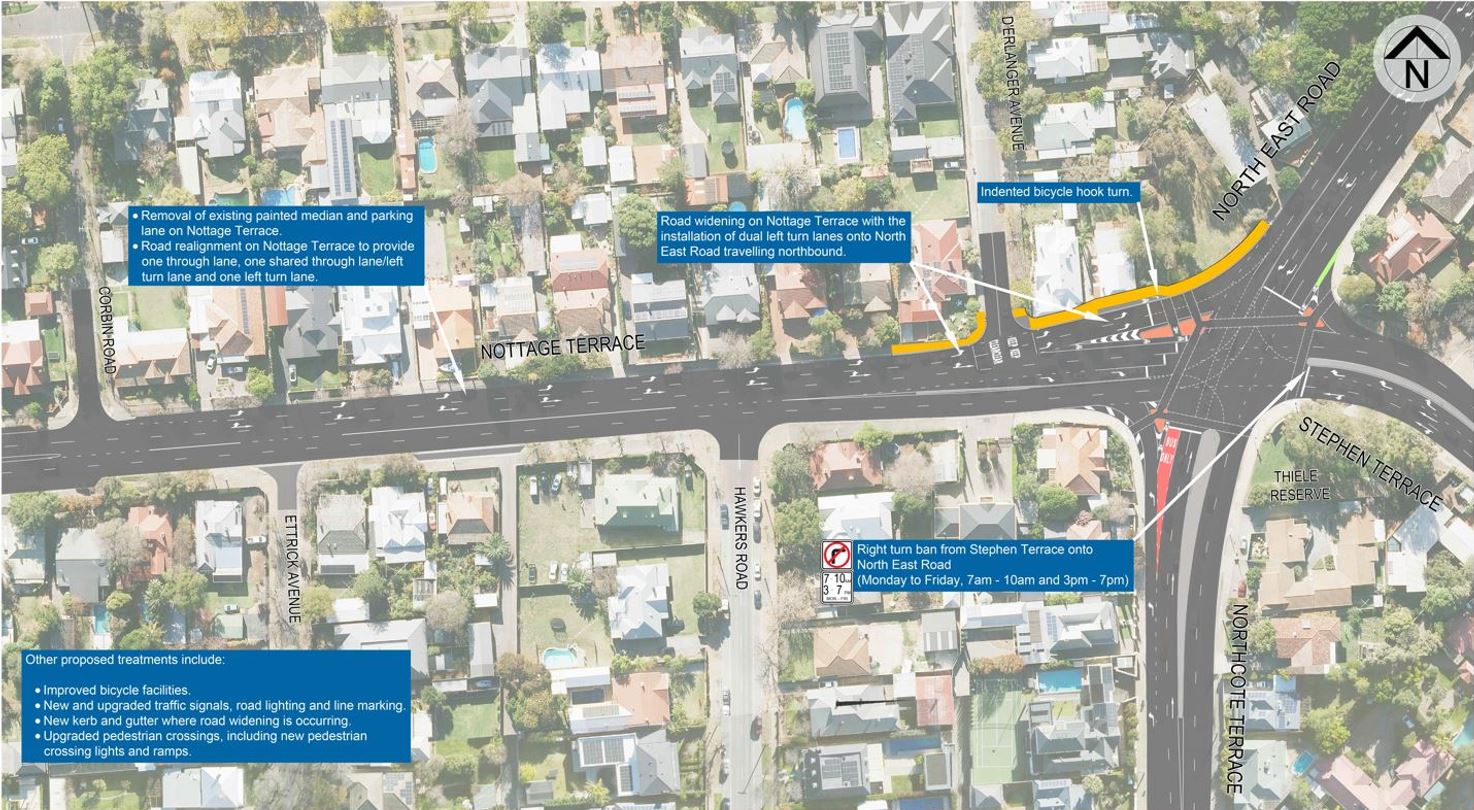 Please note, this is an artist's impression for illustrative purposes only and not a final design.
Download a copy of the concept plan.
Community Engagement
Thank you to those members of the community who provided their feedback and comments regarding the proposed concept design for the Nottage Terrace and North East Road Intersection.
Community engagement is an important part of the planning, design and delivery stages of the project.
Consultation on the initial concept design closed on 1 March 2022. An update on the designs, including a summary of the feedback received during consultation, will be released in the coming weeks.
To receive updates on the project's progress, we encourage you to join the Nottage Terrace and North East Road mailing list.
Upcoming Site Preparation Activities
Site Assessment Works
Site assessments works are underway, mainly potholing to identify underground utilities, undertaken at various locations within the project area.
Speed and lane restrictions will be in place in the vicinity of the works; however, the intersection will remain open to traffic at all times. There is no change to public transport services.
Demolition Works
Every effort has been made to minimise the impacts to adjacent properties. Some property acquisition is required on the north-western quadrant of the intersection to facilitate the road widening. All directly impacted property owners are aware of this requirement.
Demolition of these properties is expected to start in mid-February 2022, and take approximately two months to complete, weather permitting. Works will be undertaken from Monday to Saturday between 7am and 5pm. Some works may also be required on Sundays between 9am and 5pm.
Prior to the demolition works starting, temporary fencing will be installed around the properties to secure the site. Utility service disconnections will also occur but will not impact nearby properties.
As part of standard demolition works, an asbestos assessment will be completed and any identified asbestos will be removed by a licensed asbestos contractor, in accordance with Environmental Protection Authority Guidelines. Some vegetation on the properties will also need to be removed.
Pedestrians are advised to take care when moving through the area. For safety reasons there may be some restricted access. Temporary and minor traffic restrictions may also occur.
Signage will be in place to alert all road users and pedestrians to any temporary changes to traffic conditions. Please take extra care when workers are on site. Observe speed limits, lane restrictions and traffic controllers when travelling through the area.
Some noise can be expected at times while these works are completed, however work will be managed to minimise disturbance.
Next Steps
Further updates will be provided as the design progresses in the coming months and prior to works commencing. You can register to receive project updates when they are released.
Further Information
If you have any further enquiries or would like to register your interest in the project to receive updates, please: