Nairne Intersection Upgrade
---
The Department for Infrastructure and Transport (the Department) is delivering improved safety and traffic efficiency through the construction of a four-way, single lane roundabout realigning the Woodside Road and Saleyard Road T-junctions with the Old Princes Highway, Nairne. The State Government has committed $13 million to this project which is being delivered as part of the Adelaide Hills Intersections Upgrade Initiative. This project is part of the Adelaide Hills Intersections Upgrade Initiative and is being delivered as an election commitment by the State Government.
The upgrade will seek to reduce delays for Woodside Road traffic, maintain a good level of intersection performance and cater for future growth. The upgrade will also aim to improve safety for pedestrian and cyclist movements in the area, particularly for Nairne Primary School students.
The intersection of Woodside Road and Old Princes Highway is located on the western outskirts of Nairne within a 50km/h speed zone. Since the completion of the Bald Hills Interchange project in 2016, traffic volumes at the Woodside Road and Old Princes Highway intersection have increased by approximately 10-15%.
Preliminary planning identified a four-way, single lane roundabout incorporating Saleyard Road as the preferred solution to address these project objectives.
Project Overview:
Construction of a four-way single lane roundabout, including realignment of the two T-junctions of Old Princes Highway with Saleyard Road and Old Princes Highway with Woodside Road
2.5 metre wide, New Shared Use Path for the extent of works.
Provision of pedestrian fencing to encourage crossing at desirable locations only.
Relocation of the pedestrian actuated crossing (push button) on the Old Princes Highway eastern approach approximately 70 metres east of the roundabout.
Other proposed treatments include:
Upgraded LED road lighting for the extent of the works.
Installation of new safety barrier (where required).
Improved drainage, including new kerb and gutter.
New asphalt surfacing and line marking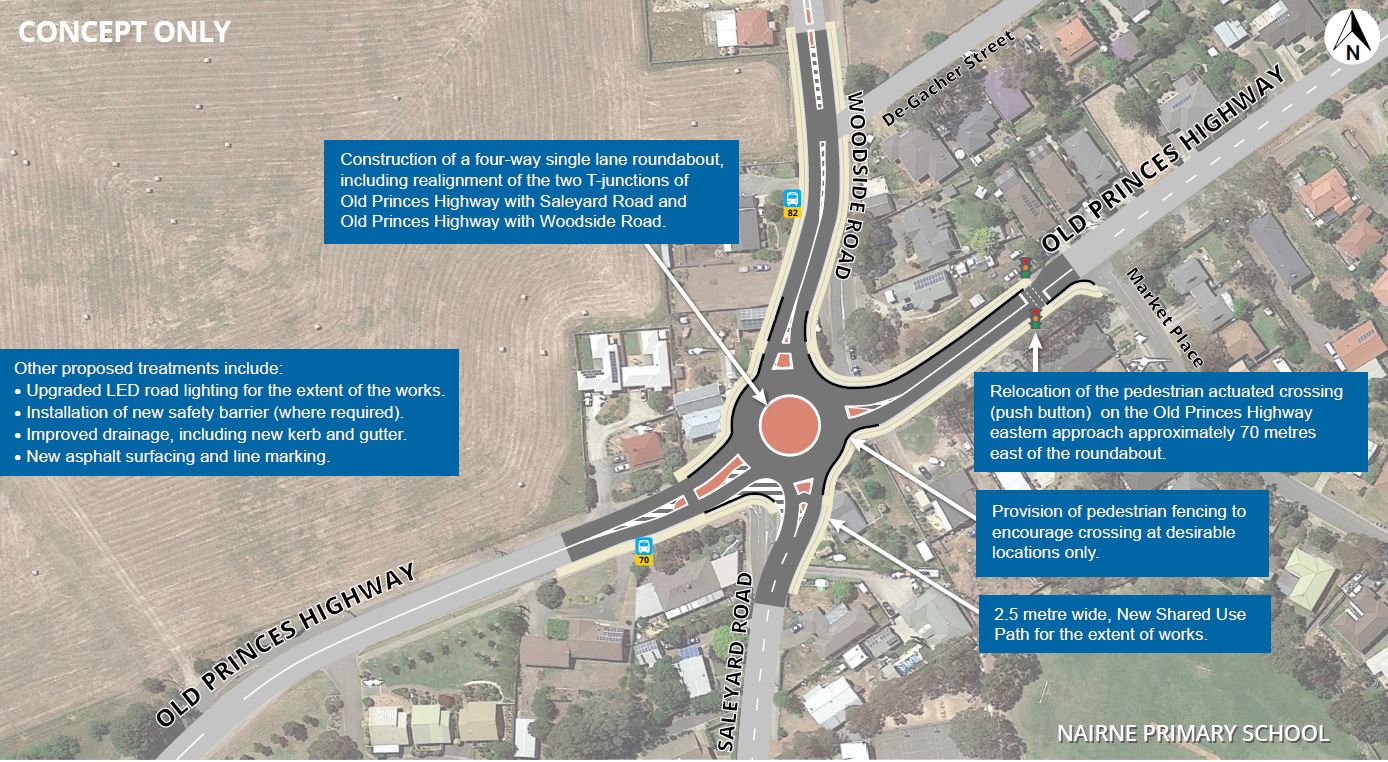 ---
Latest News
Major works for the project commenced in late July 2021 and were completed in February 2022.
---
For more information
If you would like to have your say, enquire or register your interest in either project, or to receive updates, please:
telephone 1300 794 880
or write to GPO Box 1533, Adelaide SA 5001
---