Russell Street / Main Road / Sheoak Road Junctions
About the project
The South Australian Government has committed $20 million towards the Mitcham Hills Corridor which include the upgrade of the Russell Street / Main Road / Sheoak Road junctions. The project is expected to support around 35 full time equivalent jobs throughout the construction period.
The proposed treatments for the upgrade include:
new traffic signals at Main Road and Russell Street Junction;
widening of Main Road to include single vehicle storage lanes for drivers accessing Gloucester Avenue and Sheoak Road;
provision of traffic light controlled right turn movements and improved pedestrian safety;
integrating new traffic signals by relocating signalised pedestrian crossing at Russell Street;
extension of right turn lane into Sheoak Road;
a 'Bus Only' right turn into Main Road;
widening of Main Road with the installation of an additional right turn lane into Russell Street; and
removal of right turns for all vehicles from Sheoak Road to Old Belair Road.
The proposed concept design provides an outcome that improves safety:
for road users, through the installation of traffic signals at the Russell Street and Main Road junction, including duplication of the right turn from Main Road to Russell Street;
at the Main Road and Gloucester Avenue junction and the Main Road and Sheoak Road junction by inclusion of median storage on Main Road;
at the Main Road and Russell Street junction by improving the road geometry and installing an additional right turn lane into Russell Street; and
for pedestrians crossing Russell Street through the provision of a new signalised pedestrian crossing of Russell Street, at the proposed new traffic signals.
Community engagement
In February 2021, the Department for Infrastructure and Transport (the Department) released the proposed concept designs for this project, along with the Old Belair Road and James Road junction.
The designs were developed in response to feedback received from the community during the early 2020 planning study phase of consultation.
Consultation on the concept design commenced on 25 February 2021 and concluded on 7 May 2021.
Download a copy of the latest project update which includes a summary of the feedback received during consultation.
Design update
The Main Road and Russell Street, Main Road/Belair Road and Sheoak Road, and Sheoak Road and Russell Street junctions design remains primarily as presented during the consultation period due to the site limitations. Opportunities to minimise vegetation and land impacts continue to be investigated.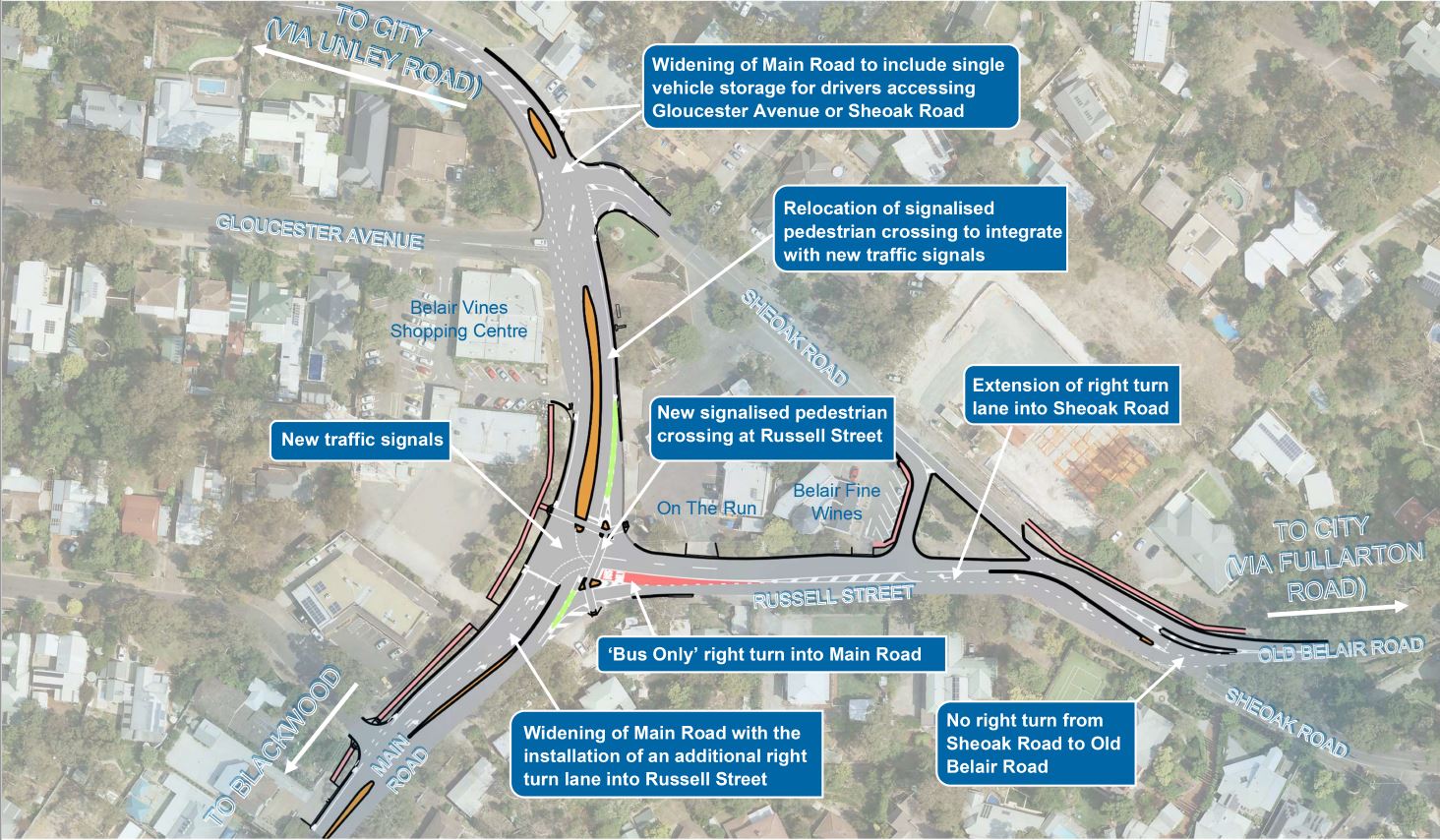 For further detail download a copy of the proposed concept design for the Russell Street / Main Road / Sheoak Road Junction – Artist's Impression Only.