Majors Road Upgrade
The South Australian Government has committed $15 million for upgrades along Majors Road, O'Halloran Hill, between the Southern Expressway and Main South Road and between Lonsdale Road, Ocean Boulevard and the Southern Expressway.
Majors Road, located approximately 15 kilometres southwest of the Adelaide CBD is an important arterial road, providing a key connection between Lonsdale Road and Main South Road. It carries an average of 13,200 vehicles per day. The Majors Road Upgrade aims to improve the overall operation and safety of Majors Road and ensure the road caters to current and future traffic demands.
The project for works between Southern Expressway and Main South Road includes:
pavement rehabilitation and undulating correction;
new access to the Glenthorne National Park;
improve connectivity at the Patrick Jonker Veloway (bikeway); and
minor road widening for safer merging westbound near Main South Road.
The project will result in safer journeys and provide efficient access to the key adjacent facilities. The project is expected to support 35 full time equivalent jobs during construction.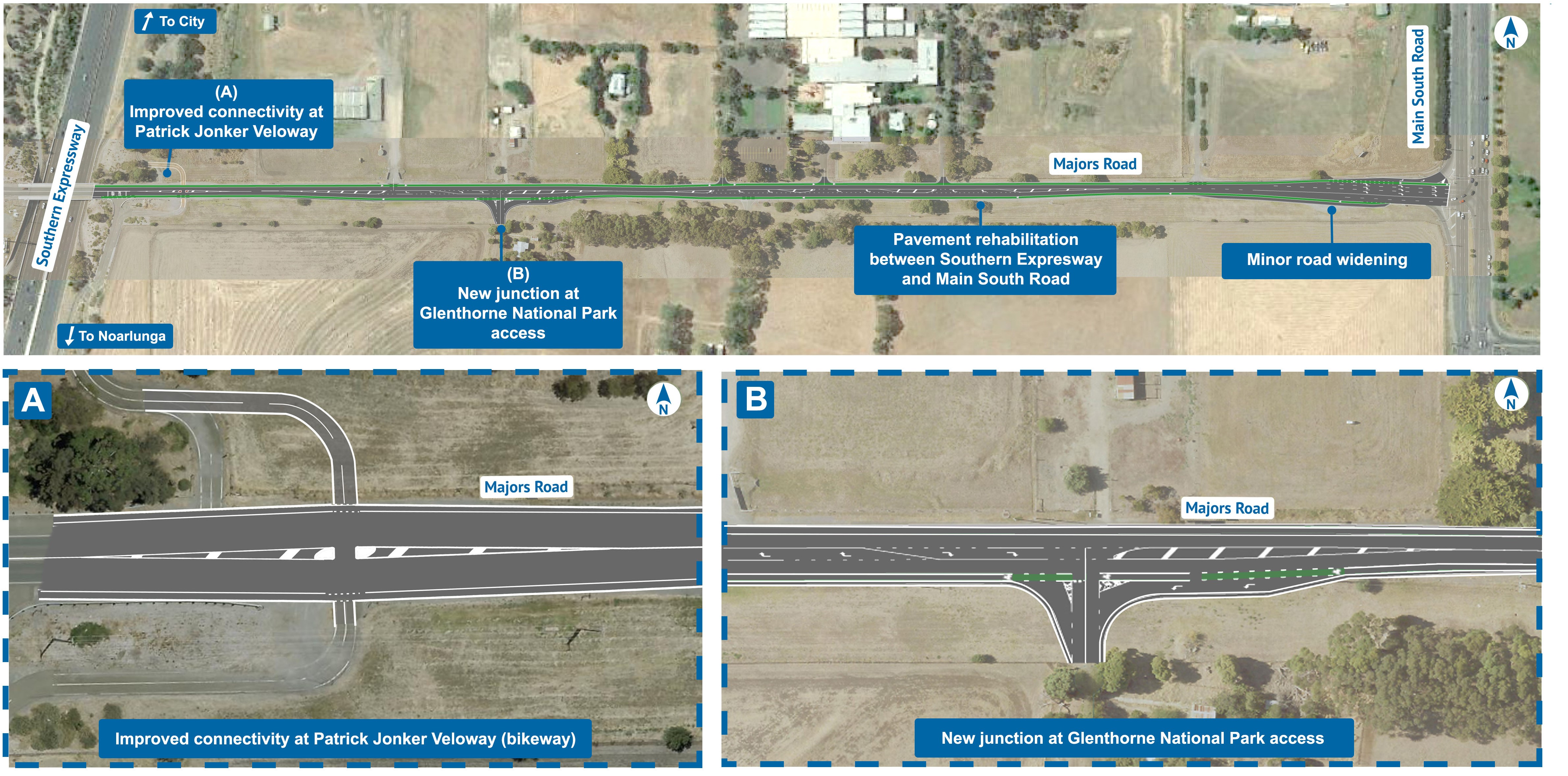 *concept design for illustration purposes only
What's Next?
Construction commenced in mid January 2022 with completion expected in mid 2022, weather permitting.
In addition, planning is underway for the upgrade works on Majors Road, between Lonsdale Road, Ocean Boulevard and the Southern Expressway. More information will be provided about this upgrade in the coming months.
DIT COVID-19 Response
The Department will continue to tailor community engagement opportunities in line with the latest COVID-19 advice from health authorities.
Face-to-face engagement opportunities may be restricted and we will continue to be guided by the advice of health authorities, with the health and safety of our stakeholders always our highest priority.
Engagement with community and industry is crucial and we will facilitate information sessions as much as possible to enable face to face engagement. It is important to assist in managing these events that you register as requested to enable physical distancing as much as possible.
Further Information
If you have any questions or would like to register to receive project updates, please
telephone 1300 794 880 or
write to Majors Road, GPO Box 1533, Adelaide SA 5001.