Heaslip Road and Curtis Road Intersection Upgrade
The Department for Infrastructure and Transport (the Department) will be improving safety and easing congestion for all road users by delivering a dual-lane roundabout at the intersection of Curtis Road and Heaslip Road in Angle Vale.
The Heaslip Road and Curtis Road intersection will support nearby residential developments occurring within the Angle Vale Urban Growth Area and deliver enhanced traffic capacity to cater for the increased demand and complement other infrastructure upgrades being undertaken in the area.
The first stage of design work for the intersection upgrade has been completed, and is aimed at addressing road safety and traffic management issues and supporting current and future population growth in the local area. See concept map below.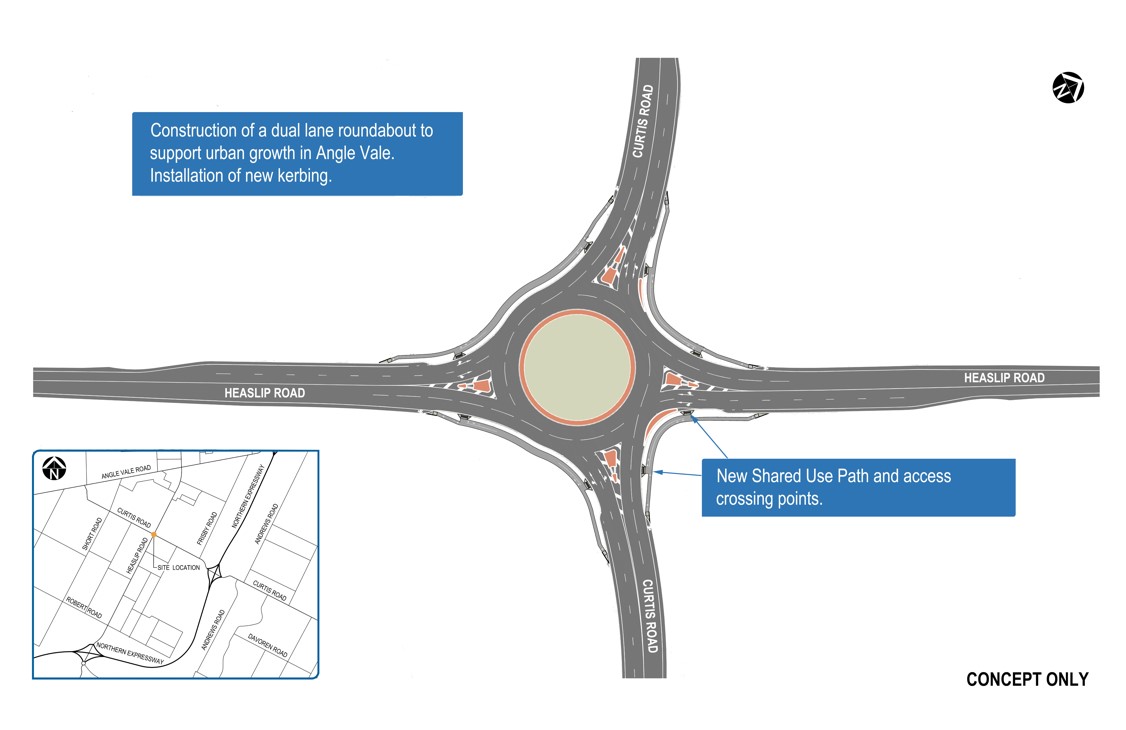 Latest News
Investigation works such as service location and engineering surveys were undertaken during December 2021 as part of the planning and design phase to ensure all relevant technical information is taken into consideration for the upgrade.
Project timing
Further details, including construction timing is being worked through and will be provided as soon as available.
Local Business Support
The Department is committed to working with businesses to minimise impacts that may result from construction activities. As part of the detailed design phase, the Department will engage with local businesses to ensure feedback from business owners is considered, and to understand how to best support the businesses during construction. Support for businesses will include project contact details, information, project notification, promotion and signage.
Contact the project
If you have any further enquiries or would like to register your interest in the project to receive updates, please:
telephone 1300 794 880, or
write to GPO Box 1533, Adelaide SA 5001.