Ovingham Level Crossing Removal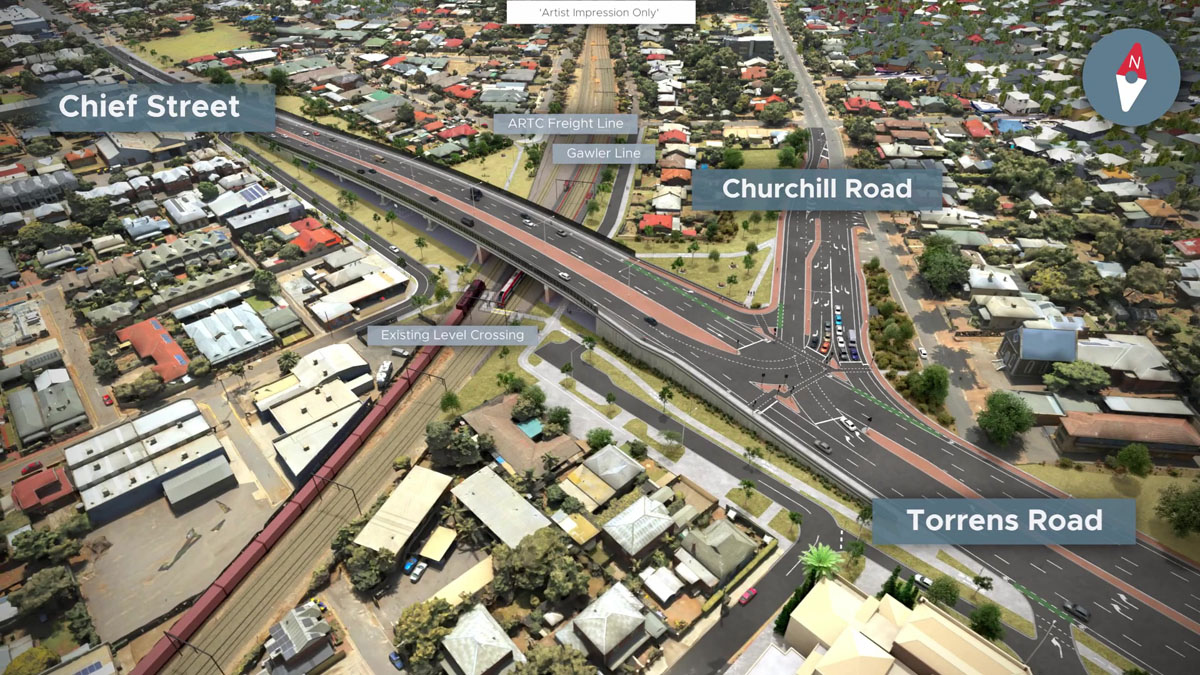 Works to implement new temporary traffic arrangements around the Ovingham Level Crossing Removal Project commenced Monday, 21 June, which will affect Torrens Road, Churchill Road and some surrounding streets.
This first traffic switch is an important milestone for the project, as it will enable construction of the bridge, as well as roadworks to upgrade the western side of the Churchill Road and Torrens Road intersection.
The following temporary arrangements will be in place until the first quarter of 2022:
From Monday, 21 June, only left in and left out movements will be permitted at the Myrtle Street and Churchill Road intersection.
From 7pm Friday, 25 June, road users will be temporarily unable to turn right from Churchill Road into Torrens Road or turn left from Torrens Road into Churchill Road. A detour will also be in place for pedestrians and cyclists.
Stop 8 Churchill Road (west side) will be temporarily relocated approximately 100 metres north from Friday, 25 June and Stop 8 Torrens Road (south-west side) will be temporarily relocated approximately 100 metres west from Monday, 28 June. Any temporary service impacts will be communicated at www.adelaidemetro.com.au.
Road users are advised to plan ahead, allow extra travel time and take extra care when workers are on site.
For more information on the project construction phase please:
Project overview
The Australian and South Australian governments have announced $196 million towards the removal of the level crossing at Torrens Road, Ovingham.
The crossing is located near the fringe of the Adelaide CBD on Torrens Road at Ovingham. An average of 21,300 vehicles pass through this level crossing each day.
The boom gates at Torrens Road, Ovingham are down for approximately 22 per cent of the time during the combined AM and PM peak periods.
The junction of Torrens Road and Churchill Road is approximately 100 metres from the level crossing.
Torrens Road crosses both the interstate rail line and the Gawler passenger rail line.
Removal of the level crossing will lead to improved:
travel times for motorists
reliability for buses using Torrens Road
increased freight productivity
safety for all road users (motorists, cyclists and pedestrians) by removing a road-rail crossing point
The South Australian State Government is delivering the project as part of an alliance with McConnell Dowell Constructors (Aust) Pty Ltd, Mott MacDonald Australia Pty Ltd and Arup Pty Ltd, meaning a collaborative approach will be taken to complete the works.
On 18 January 2021, the State and Federal governments announced the contract award for the delivery phase of the project.
"A consortium of McConnell Dowell Constructors (Aust) Pty Ltd, Mott MacDonald Australia Pty Ltd and Arup Pty Ltd has been selected to remove the Ovingham Level Crossing and elevate Torrens Road over the Gawler Rail Line," Minister Fletcher said.
The consortium has previously completed major infrastructure works in South Australia, as part of the Public Transport Projects Alliance, including the Oaklands Level Crossing Grade Separation project, and is currently delivering the Regency Road to Pym Street Project as part of the North-South Corridor.
The project is due for completion in 2023, weather permitting.
DIT COVID-19 Response
The Department will continue to tailor community engagement opportunities in line with the latest COVID-19 advice from health authorities.
Face-to-face engagement opportunities may be restricted and we will continue to be guided by the advice of health authorities, with the health and safety of our stakeholders always our highest priority.
Engagement with community and industry is crucial and we will facilitate information sessions as much as possible to enable face to face engagement. It is important to assist in managing these events that you register as requested to enable physical distancing as much as possible.
Further information
If you have any further enquiries or would like to register your interest in the project to receive updates, please: