About the project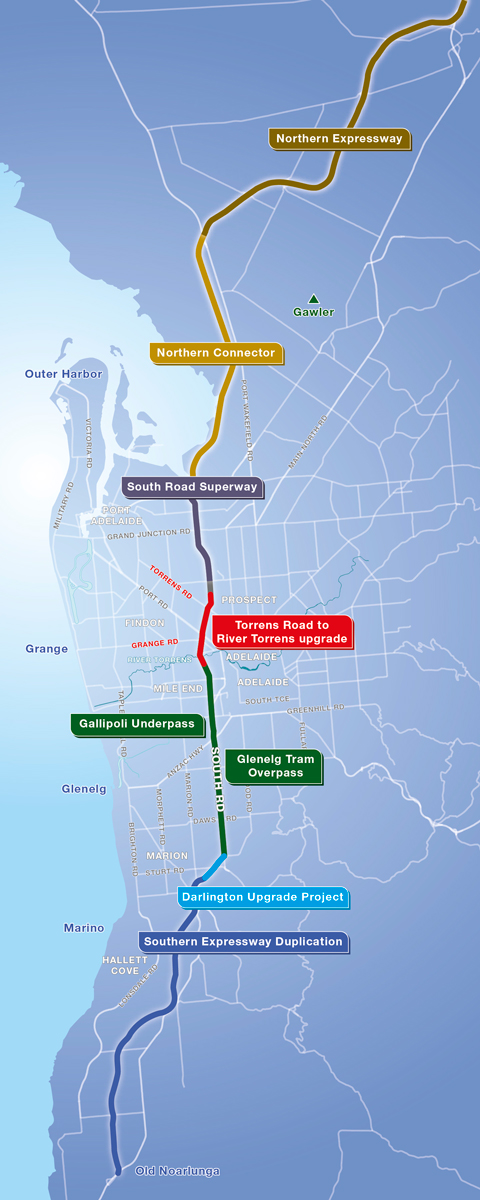 The North-South Corridor is identified in the following strategies as one of Adelaide's most important transport corridors - the South Australian Planning Strategy including the 30 Year Plan for Greater Adelaide, the Strategic Infrastructure Plan for SA and the Integrated Transport and Land Use Plan. It will be the major route for north and south bound traffic, including freight vehicles, running between Gawler and Old Noarlunga, a distance of 78 kilometres.
The $867 million Northern Connector will be a six-lane, 15.5 kilometre motorway providing a vital freight and commuter link between the Northern Expressway, South Road Superway and Port River Expressway.
This project will focus on delivering economic benefits to the local South Australian community including creating 480 full-time equivalent jobs each year during construction.
The Australian Government has committed $694 million to the project, with $173 million from the South Australian Government.
The project is opening to traffic on Saturday, 7 March 2020.
Lendlease were appointed in June 2016 to design and construct the new non-stop motorway. Once completed, the Northern Connector will link the Northern Expressway, Salisbury Highway, Port River Expressway and the South Road Superway providing an unimpeded journey from:
Gawler to Regency Park (a total of 43 kilometres, via the Northern Expressway and South Road Superway).
Gawler to Port Adelaide (a total of 40 kilometres, via the Northern Expressway and Port River Expressway).
The motorway will serve as a new national road link to provide better connection between Adelaide, the Port of Adelaide, the northern suburbs and beyond (including the mid-north, Barossa Valley and the Riverland) and will support regional growth and economic sustainability, more efficient road travel and improved safety.
The project scope includes:
A 15.5 kilometre non-stop motorway connecting the Northern Expressway, Port Wakefield Road, Salisbury Highway, South Road Superway and the Port River Expressway.
Three lanes in each direction with a posted speed limit of 110 km/h.
Four road interchanges:

Northern Interchange: Port Wakefield Road and Northern Expressway (NEXY)
Waterloo Corner Interchange: Port Wakefield Road and Waterloo Corner Road
Bolivar Interchange: Port Wakefield Road and Bolivar Road
Southern Interchange: South Road Superway, Port River Expressway and Salisbury Highway

A new shared use pedestrian and bike path (SUP) adjacent the full length of the Northern Connector.
A 4km extension to be constructed adjacent the Port River Expressway connecting into the existing Port Adelaide bikeways.
Creating a 43km continuous SUP between Gawler (via the Stuart O'Grady bikeway) and the Port Adelaide bikeways.
Project Timeline
Project phase
Activities
Date
Pre-construction

Bolivar and Kings Road upgrade
Construction of the St. Kilda Road roundabout
Establishment of
Ongoing community and stakeholder engagement

2016
Construction

Establishment work zones and compounds within the alignment
Major earthwork activities
Commence Pilings work for bridges across the corridor
Assembly of the concrete batch plant for concrete paving
Ongoing community and stakeholder engagement and other activities

2017
Construction

Concrete paving works commence
Waterloo Corner Road Interchange complete

2018
Construction

North Arm Bridge complete
Northern Interchange complete
Southern Interchange complete
Bolivar Interchange complete
Road ready and open for use
Shared Use path complete

2019 - 2020
Post-construction

Operation and maintenance

2020 onwards
---

---
Key Benefits