Kingscote Jetty Upgrade
About the project
The Department for Infrastructure and Transport (the Department) will be undertaking upgrades and refurbishments to the Kingscote main jetty and nearby Fisherman's Wharf and Screw Pile jetties at Kingscote.
This project forms part of the South Australian Government's commitment to upgrade jetties, boat ramps and boating facilities across the State.
These essential works will ensure the long-term structural integrity of the jetties and deliver a safe and reliable amenity for the local community.
The scope of the project includes:
re-decking on the Kingscote main jetty;
repair and replacement of structural components including new piling and cross bracing on the main jetty, Fisherman's Wharf and Screw Pile jetties;
removal of infrastructure that is no longer required, including the steel wharf and slipway north of the main jetty; and
removal of the redundant 'Ro-Ro' ramp at the end of the main jetty.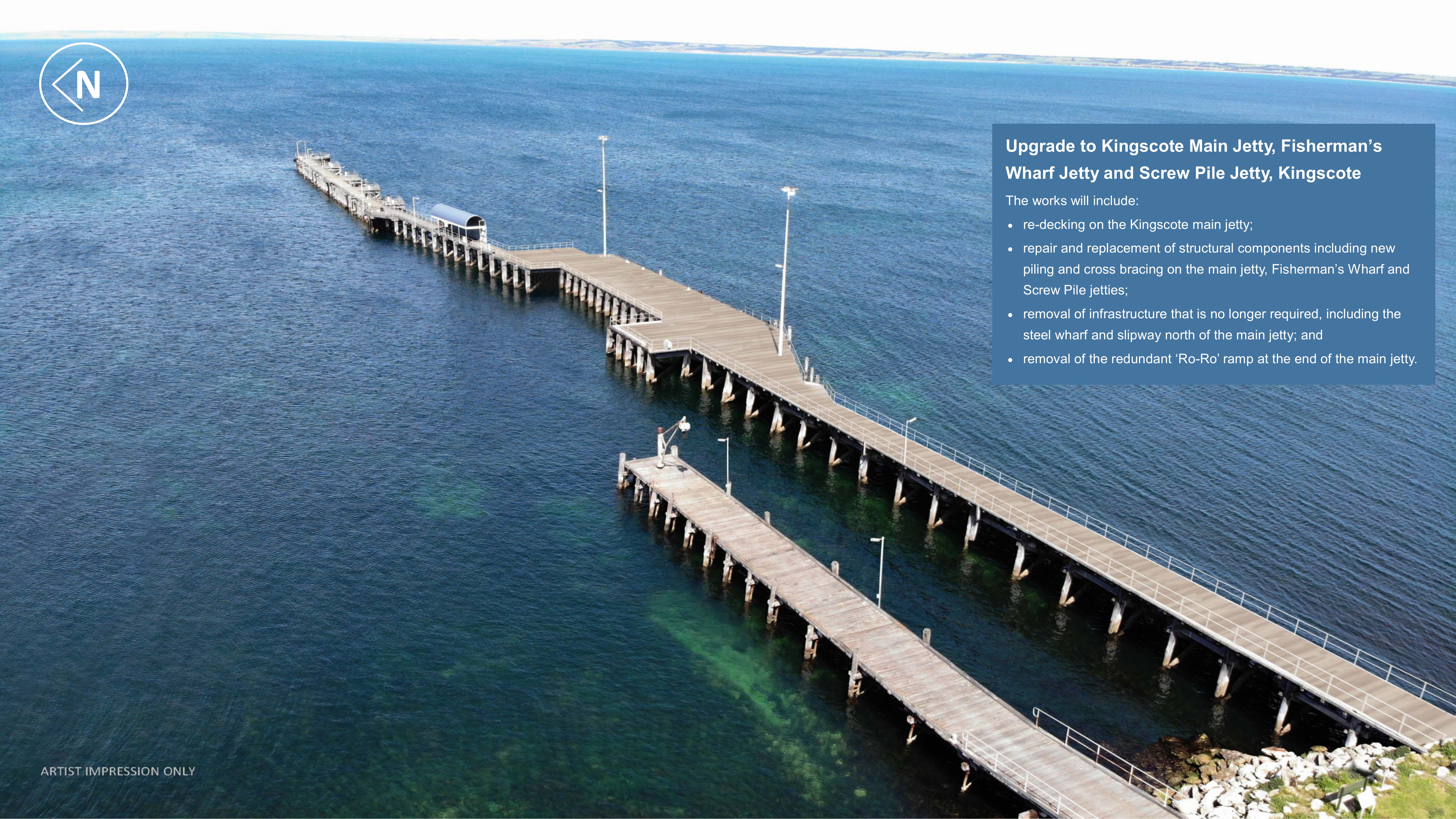 Image is an artist impression only. Click to enlarge.
What's next?
Works are expected to commence in November 2021, with completion expected in the second half of 2022, weather permitting. The majority of works will be undertaken between 7am and 5pm.
To safely facilitate these works, the construction will be undertaken progressively on the various structures in the area. This will enable continued safe access to the ocean for recreational fishers. The main jetty will be closed intermittently with signage in place to provide advance notice to jetty users.
Some temporary pedestrian detours will be in place around the works site and pedestrians are advised to follow directional signage. Every effort will be made to minimise impacts to the community.
Further Information
To find out more about the project or register for future updates, please contact the project team at the following: