North East Road and Sudholz Road Safety Improvements

[NOTE: Click on the above image to access a more detailed view. File size is large (4.4MB PDF) so please allow for some time for it to open.]
Major construction completed
The upgrade of the North East Road and Sudholz Road intersection is now complete. The upgrade was a $7.7 million investment from the Motor Accident Commission's Road Safety Fund.
Traffic travelling along North East Road towards Modbury wanting to turn right onto Sudholz Road has now been permanently re-routed on to Blacks Road to make the right turn via a newly signalised T-junction.
Redirecting traffic on to Blacks Road has removed right turns from North East Road on to Sudholz Road, helping to improve safety for approximately 73 000 vehicles that use this intersection daily.
In addition, traffic travelling on North East Road towards the city are no longer able to turn right on to Sudholz Road.
Traffic in both directions along North East Road now have three lanes to utilise when travelling through the intersection, easing traffic flow during peak times.
There is also a new 'Local Traffic Only' link road between Bristol Terrace, Gilles Crescent and Blacks Road service road for vehicles to access the Plains Village Shopping Centre.
About the project
For more information on the project's design and community consultation, please visit the 'About the project' page.
Completed intersection animation
Landscaping and vegetation works
As part of the North East Road and Sudholz Road intersection upgrade, the Department of Planning, Transport and Infrastructure (DIT) has improved the landscaping and vegetation along Blacks Road, Gilles Plains.
Minor landscaping and vegetation works were also be completed along Sudholz Road, North East Road and Bristol Terrace.
Works commenced mid July 2016 and were completed late August 2016.
Please refer to the below landscaping plans for further details.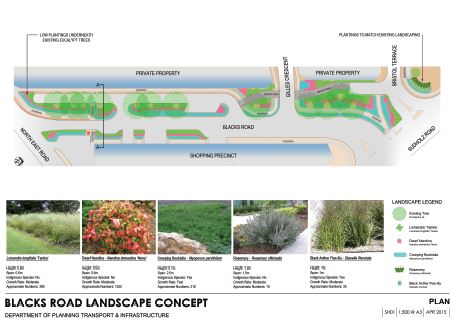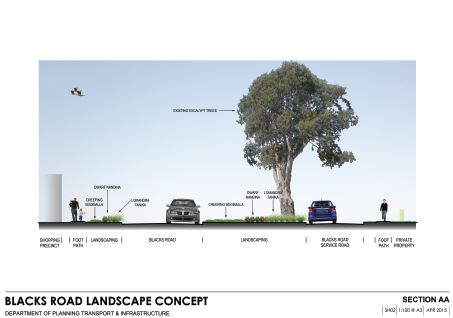 For more information please contact DIT:
Telephone: 1300 794 880