South Eastern Freeway - Managed Motorway Measures
About the project
The South Eastern Freeway - Managed Motorway Measures Project, jointly funded by the Australian Government and South Australian Government, commenced in May.

The project will convert the existing emergency lane into a third full time travel lane and implement a Managed Motorway on both the up and down tracks of the South Eastern Freeway between Crafers and Stirling. The three lane Managed Motorway will include an Intelligent Transport System, with variable speed limits and a Lane Use Management system. This will enable the allocation and control of lanes across the freeway to improve safety and traffic flow.
The South Eastern Freeway is the most direct corridor between Adelaide and Melbourne, as well as providing a vital link in moving freight between eastern and central Australia.
With the current demand of commuter and freight traffic, the section between Crafers and Stirling is heavily impacted during peak periods with increased travel times.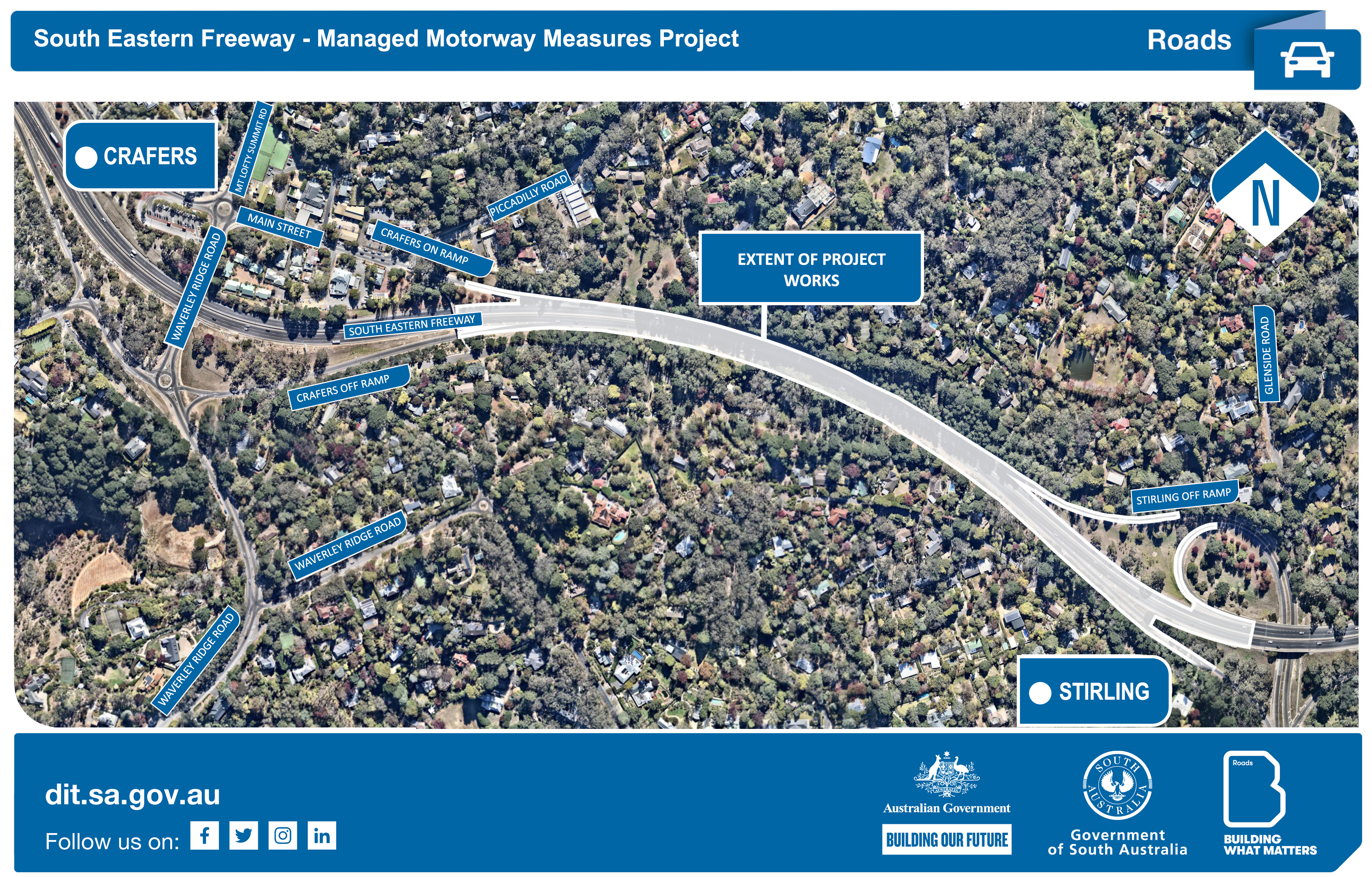 Access for road users will be maintained with one lane in each direction during some day and night works. Speed restrictions of 60km/h during peak periods and 40km/h outside of peak periods will apply. The pedestrian bridge crossing at Crafers will remain open at all times.
Some noise disturbance and temporary inconvenience from construction activities can be expected at times while these works are completed, however the work will be managed to minimise disruption to properties and road users as much as practically possible. Your patience and cooperation whilst these important works are undertaken is appreciated.
Motorists are asked to please plan ahead and allow extra travel time, take extra care when workers are on site, and observe speed and lane restrictions and signage when travelling through the area.
---
Project Timing
The project commenced in April 2020 and was completed in February 2021.
---
COVID-19 Response
---
The Department will continue to tailor community engagement opportunities in line with the latest COVID-19 advice from health authorities.
Face-to-face engagement opportunities may be restricted and we will continue to be guided by the advice of health authorities, with the health and safety of our stakeholders always our highest priority.
Engagement with community and industry is crucial and we will facilitate information sessions as much as possible to enable face to face engagement. It is important to assist in managing these events that you register as requested to enable physical distancing as much as possible.
The project team will provide construction updates and work notifications via social media, letterbox drops, emails and the Project website. We are also available to speak via telephone (1300 794 880).
We encourage the community to register for email updates.
---
Community Information Sessions
In October and November 2019 the Department held three Community Information Sessions.
Thank you to everyone that came along to provide feedback.
---
For more information please contact:
Email: DIT.communityrelations@sa.gov.au
Phone: 1300 794 880