FAQ's
How will the project be constructed?

The construction program will be carefully staged, the new surface roads and bridges will be constructed first so that traffic can be shifted onto these new roads while the lowered motorway is being constructed.
How many bridges are being built as part of the project?
Eight bridges are being constructed as part of the project, located at:
Sturt River
Main South Road (northbound) over the Southern Expressway onto surface road
Main South Road (northbound) over the Southern Expressway onto lowered motorway
Flinders Drive
Sturt Road
Mimosa Terrace/Sutton Road
Ayliffes Road
Tonsley Boulevard
How are the bridges being built?
The bridges are being constructed using two key methods: 'off-site' bridge construction and 'top-down' bridge construction.
The off-site method is being used for the two bridges on Main South Road over the Southern Expressway as it will significantly reduce traffic impacts at this critical location.
These two bridges are being constructed on the section of land between Main South Road and the Southern Expressway. Once built, the two structures, both 180 metres long and weighing approximately 3000 tonnes, will be transported and manoeuvred into their final positions using self-propelled modular transporters (large platform vehicles).
The remaining bridges will be constructed 'top down' with piers, supporting deck, road pavement, railings and shared use paths all built at current road surface levels. Once construction is complete and traffic is moved onto the new bridge, the soil underneath the bridge structure will be excavated in preparation for construction of the lowered motorway.
While the bridges are being built, access to the roadway will be maintained by adjusting the alignment of traffic and paths around the main construction zone. This is called a 'traffic switch'.
Will there be night works?

To minimise impacts on traffic flow, some works will be undertaken in the evening, during the night and on weekends.
How will traffic be managed during construction?
The construction program has been carefully staged, with the new surface roads and bridges constructed first so that traffic can be shifted onto these new roads while the lowered motorway is being constructed. This will maintain the current level of service whilst providing a safe environment for all road users and construction workers.
To minimise impacts on traffic flow, some works will be undertaken in the evening, during the night and on weekends. Temporary traffic management measures will be in place to alert motorists when there are restrictions.
When travelling through the project site please plan ahead, allow extra travel time, take extra care when workers are on site and observe speed and lane restrictions when travelling through the area.
To get real time traffic info direct to your smartphone, download the Addinsight app or visit Traffic SA at www.traffic.sa.gov.au
How are traffic impacts from the project being managed?
The impact of road traffic noise from the Darlington Upgrade Project will be managed with noise walls and acoustic façade treatments.
Precast concrete noise walls have recently been installed between the road corridor and residential properties in the following locations:
Between Shepherds Hill Road and Sturt Road (southern side of road corridor)
Between Sturt Road and Mimosa Terrace (northern side of road corridor)
Between Flinders Drive and Riverside Drive (southern side of road corridor)
How are noise impacts from traffic being managed?
Noise walls are one of the best ways to reduce traffic noise to nearby properties as they interrupt the noise travel path by providing a barrier between the source of the noise and the receiver. As such, they are the most effective and primary noise treatment method being used for the Darlington Upgrade project.
Some residential properties will require acoustic façade treatments such as window and door seals, replacement of window glass and door systems, adjustments to ventilation, insulation and treatments to vents and openings.
Noise modelling has been undertaken to determine which properties are eligible for these treatments and the project team will be in touch with eligible property owners in the near future to commence the process of installing the treatments.
Please download a copy of the project's Noise Management Fact Sheet for further detail.
Will pedestrian access be maintained during construction?
Pedestrian access throughout the project site will change at times to accommodate work areas but clear signage will be in place to direct pedestrians.
How will dust be managed during construction?
Whilst dust cannot be completely eliminated during the construction of large projects such as the Darlington Upgrade Project, every effort will be made to minimise dust during our works.
This will include;
making sure that vehicles do not travel too fast on unsealed areas;
watering down work areas and stock piles;
using dust suppression products to stabilise unsealed surfaces;
installation of rubble at entry and exit points into the project area;
removing loose dirt from trucks and machinery before leaving the construction area;
covering materials carried away by trucks; and
frequently using street sweepers.
How will vibration be managed during works?
During construction, nearby residents and businesses may feel vibration from construction activities using large excavators, vibrating rollers, or from the movement of heavy machinery. Experiencing vibration does not mean that structural damage to properties will occur.
To help minimise the effect of construction vibration, a range of measures are in place including:
operating equipment on the lowest effective vibration setting;
maintaining low speed limits for construction trucks and machinery;
maintaining equipment to minimise vibration;
consideration of alternative construction methodologies where appropriate. For example, using Continuous Flight Auger piling instead of driven piling across the project as this will reduce the potential for vibration; and
placing vibration monitoring equipment in strategic locations to monitor vibration levels to ensure they do not exceed compliance levels.
How will noise be managed during construction?
Construction noise cannot be eliminated altogether, however works can be managed to minimise disturbance.
A number of measures are being used to minimise the impacts of noise on adjacent residents and stakeholders, including;
using low noise reversing 'squawkers' instead of traditional beepers;
looking for opportunities to reduce the number of vehicle movements, particularly close to private properties;
undertaking noisy activities during the day wherever possible;
letting residents and workers know when activities are planned that may cause noise;
minimising the use of local roads as much as possible;
maintaining machinery to a high standard to minimise noise; and
locating activities that may cause noise away from sensitive properties where possible.
Will bus services be affected?

Bus routes will be maintained for the duration of works. However, some bus stops will need to be relocated or temporarily closed.
Advance notice of the relocation or closure of bus stops will be provided to bus users via signs at the affected bus stops and on the Adelaide Metro website.
Please visit https://www.adelaidemetro.com.au/plan-a-trip/disruptions to keep up to date with any changes
The final configuration of bus stops will be reviewed as part of the final design and will take into account the new Flinders Drive extension to Sturt Road, and the Flinders Link project.
Can I still get to the Flinders Medical Centre and Flinders Private Hospital during construction?

Yes, access will be maintained to both hospitals during construction.
What cycling and pedestrian facilities are being provided as part of the project?
There will be separated, two-way cycling paths and footpaths along both sides of the corridor, where space allows, enhancing linkages for pedestrians and cyclists accessing services, facilities and public transport as well as providing for cyclist commuters travelling through the area.
The cyclist paths will connect to the Patrick Jonker Veloway and provide a connection to the proposed Greenway adjacent to the Tonsley Rail line. The extension of Flinders Drive will also incorporate a dedicated pedestrian and bicycle path linking Clovelly Park and Mitchell Park to the hospitals and Flinders University at Bedford Park.
Details of these connections can be viewed on this plan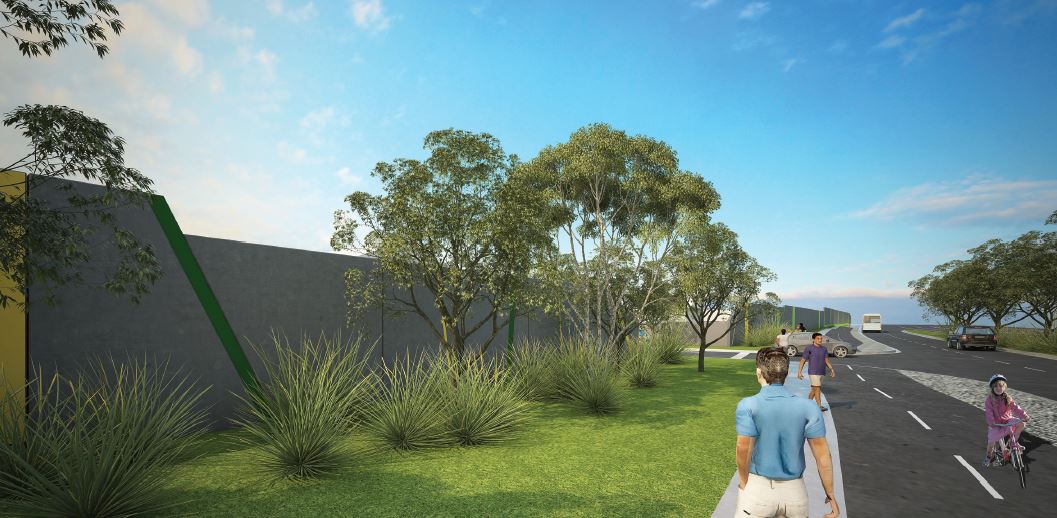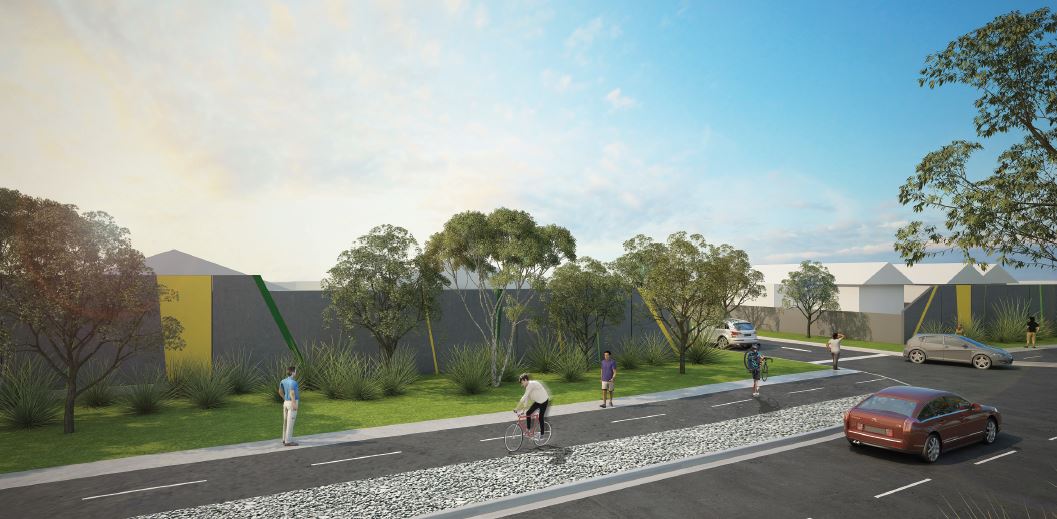 Artists impression only, details are subject to change
Will we have to pay a toll to use the new motorway?
No, the new motorway being built as part of the Darlington Upgrade Project will not have a toll.
The current South Australian Government has a 'no toll road' policy.
Toll roads in South Australia are unlikely to be feasible as there is simply not the traffic volumes required to make them viable.
What is the building on the eastern side of Main South Road between Riverside Drive and Franklin Avenue?
The Computer Equipment Room (CER) will house the Intelligent Transport System (ITS) for the new section of lowered motorway for the Darlington Upgrade Project and the Southern Expressway. Traffic lights, variable message signs and cameras are a few examples of what the ITS controls. The building will also be accessed by road maintenance vehicles which carry road signage and other equipment.

How do I find out more?

Community engagement is a critical part of the Darlington Upgrade Project and we are committed to keeping you informed about the project's progress. To find out more about the project or to speak to a member of the project team, you can:
Call: 1300 759 334
Email: enquiries@gatewaysouth.com.au
Drop in to the site office: Level 2A, Sir Mark Oliphant Building,5 Laffer Drive, Bedford Park.