'Hahndorf Township Strategic Traffic Planning Study' and 'Hahndorf Township Improvements and Access Upgrade Project'
PROJECT UPDATE
Download a copy of the latest project update.
BACKGROUND
The Australian and South Australian governments have committed $250 million to jointly fund the Hahndorf Township Improvements and Access Upgrade Project.
In 2018 a strategic traffic planning study commenced to address traffic safety, connectivity and liveability issues in Hahndorf. Access and efficiency for heavy freight vehicles travelling to surrounding areas was also considered. A key aim of the study was to investigate alternative vehicle options for traffic which doesn't have a purpose in the main street (Mount Barker Road).
The outcomes of this study shortlisted three viable interchange options, as well as a set of ideas for the Hahndorf main street. Earlier this year the Department for Infrastructure and Transport (the Department) sought community feedback on these three options and the ideas for the main street.
UPDATE
The Department would like to thank everyone who provided their feedback during the public consultation that took place between 29 April - 7 June 2021.
Through this consultation process, another interchange option was suggested by a number of community members. Following further review, this suggested 'Option 4' interchange has been determined as also a potentially viable option and is now being considered, along with Options 1- 3.
A final decision on the preferred interchange option has not been made. Prior to this decision being made in early 2022, site investigations are required to better understand the ground conditions. We are also seeking community feedback on Option 4.
Public consultation on 'Option 4' will be open until Friday, 10 December 2021. Please read below for further information about the consultation phase.
In addition to seeking feedback from the community on 'Option 4', the Department is seeking to understand the criteria considered most important to the community. Please share with us your thoughts by completing the online survey.
This project update provides a summary of the feedback received on Options 1 to 3 as well as an overview of Option 4.
OPTION 4 OVERVIEW
Option 4 includes a new interchange in the Paechtown area including a new freeway underpass, new connector road between Mount Barker Road and Echunga Road and on and off-ramps providing full access towards the east and west. It also includes a refined version of the east-facing ramps proposed in Option 3 for the Verdun interchange.
Similar to Options 1 to 3, this option will also include providing an additional access to the freeway, safety and amenity upgrades for Hahndorf's main street.
As part of the project, the Department also proposes a new Shared Use Path connecting Verdun and Hahndorf and an upgrade to the existing Mount Barker Interchange.
This option does not require the construction of a new link road between Echunga Road and River Road which responds to community concerns raised about access to Hahndorf Oval and recreation reserve.
We are now commencing the next phase of detailed planning and investigation works on the options as well as conducting further engagement and consultation with key stakeholders and residents on an alternative option put forward by the community known as 'Option 4'.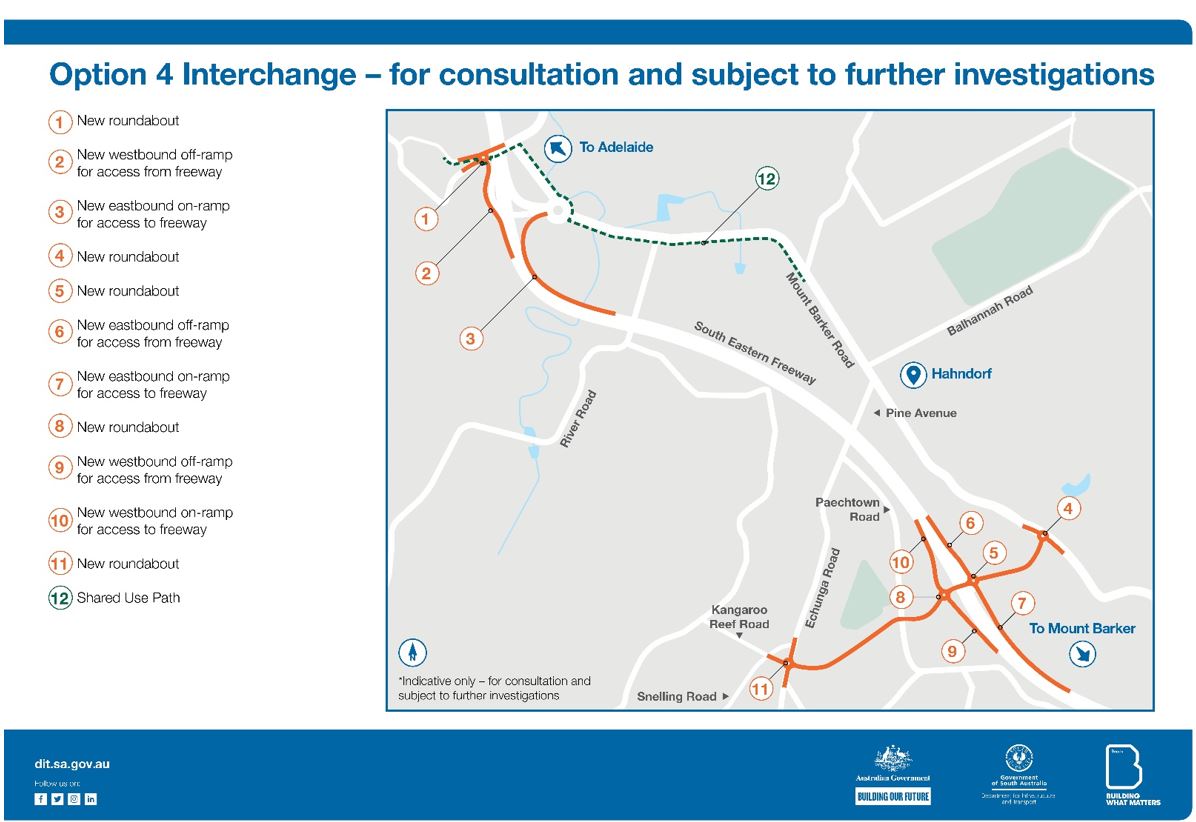 For more information on Option 4 and why this option is being considered as part of the next phase, please view our updated Frequently Asked Questions.
HAVE YOUR SAY ON OPTION 4
The Department is seeking feedback from the community and surrounding landowners on Option 4 from now until Friday, 10 December 2021.
We also encourage you to register for updates so we can keep you informed as the project progresses.
Engagement and Community Feedback
A big thank you goes to the 196 people that attended our two Hahndorf Township Improvements and Access Upgrade information sessions held at the Hahndorf Memorial Institute on Tuesday, 23 November and Sunday, 28 November 2021.
Community engagement is an important part of the planning, design, and delivery stages of the project.
Consultation on Option 4 commenced on 12 November 2021 and will be open until 10 December 2021. We encourage you to provide your feedback on Option 4 via the project feedback form and by completing the online survey.
We also encourage you to register for updates so we can keep you informed as the project progresses.
UPCOMING SITE INVESTIGATIONS
Over the next several weeks the Department will conduct site investigations in areas where we need to better understand the site conditions. The investigations will include ground and topography conditions, hydrological and environmental assessments.
The Department will limit the need to access private properties as much as possible and will be undertaking sampling or testing works in public land. However, some landowners may be contacted by the Department to seek approval to access the property if required. Please expect to see temporary traffic management measures in place while the project team and crews safely undertake these investigation works.
More information about these works will be provided to nearby landowners prior to investigation works commencing.
PROJECT TIMING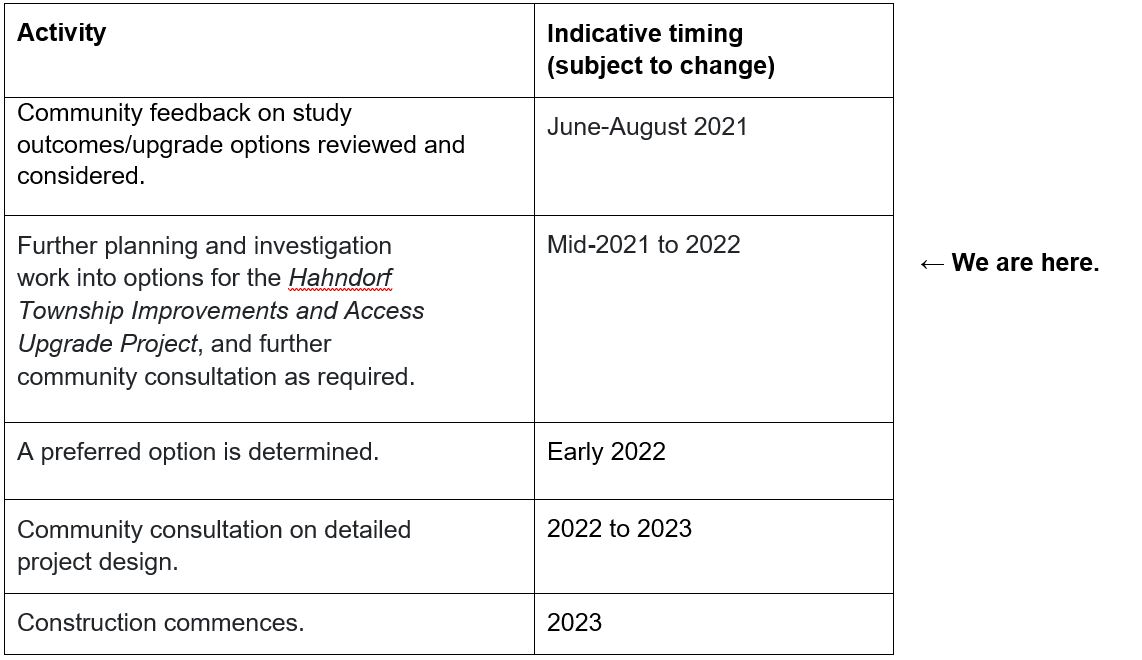 Contact
For further information, to register for project updates, or to speak with a member of the team, please email dit.communityrelations@sa.gov.au or call 1300 794 880.