Flagstaff Road Upgrade
About the Project
The South Australian Government has announced $32.9 million in funding for the upgrade of Flagstaff Road, between Hyland Avenue and Bonneyview Road, by installing a fourth lane to make it a permanent two-way dual carriageway.
Flagstaff Road is a major arterial road used by approximately 21,000 motorists every day to commute to other parts of the city. For 800 metres of its overall 3.3 kilometre length between Hyland Avenue and Bonneyview Road, the road consists of only three lanes. Flow on the centre lane is reversed daily to cope with peak-hour traffic in the mornings and evenings. This is a potential cause of confusion for motorists travelling during these periods and remains a safety concern.
The additional lane will be installed as a permanent two-way dual carriageway to reduce traffic congestion, reduce confusion and improve efficiency and safety for motorists travelling on Flagstaff Road. It will provide room to overtake slow-moving traffic and allow emergency vehicles to proceed without being held up by other traffic.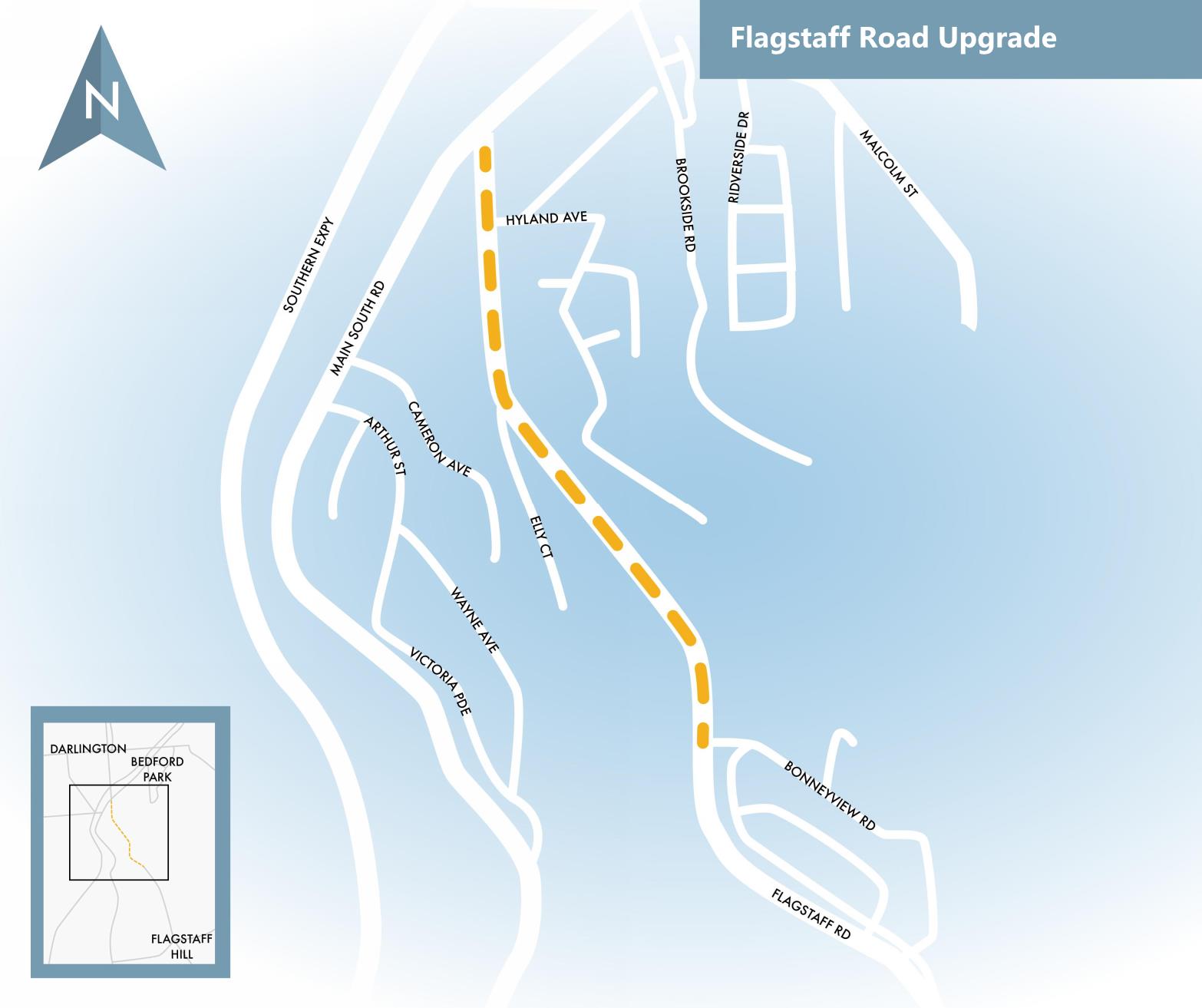 Community Information Session
The Department held Community Information Sessions at the Flagstaff Hill Golf Club on Wednesday 16 and Saturday 19 June 2021. The community was invited to drop into these to speak with the project team, learn about the project, ask questions and provide us with feedback.
Community Engagement
As part of the planning and design phase, the Department for Infrastructure and Transport (the Department) held an information session at Aberfoyle Park Hub Shopping Centre on 16 December 2019 to meet members of the community and understand the specific issues of the current road alignment.
In addition to the information session, the community was invited to provide their feedback via the Government YourSAy website and feedback forms on the project website. This consultation commenced on 7 December 2019, and concluded on 7 January 2020.
View the findings from this engagement period.
Community feedback received to date has been incorporated into the concept design and includes:
Improvements to road safety.
Increased accessibility for cyclists and pedestrians.
Safer access into neighbouring streets.
View a copy of the concept design.
What's Next
Project Timeline
Works commenced in early 2021, with the additional lane expected to be open to traffic by mid 2022, weather permitting.
DIT COVID-19 Response
The Department will continue to tailor community engagement opportunities in line with the latest COVID-19 advice from health authorities.
Face-to-face engagement opportunities may be restricted and we will continue to be guided by the advice of health authorities, with the health and safety of our stakeholders always our highest priority.
Engagement with community and industry is crucial and we will facilitate information sessions as much as possible to enable face to face engagement. It is important to assist in managing these events that you register as requested to enable physical distancing as much as possible.
Further Information
If you have any questions or would like to register to receive project updates, please
telephone 1300 059 639 or
write to GPO Box 1533, Adelaide SA 5001.