Outer shell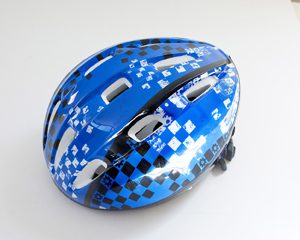 Description:
The hard plastic layer is glued or taped to the inner shell. Some helmets have ventilation holes (vents) and/or a plastic visor attached that is designed to detach in a collision. Helmets come in a variety of colours and designs.
Function:
Protects the inner shell
Helps the helmet slide easily across the road surface in a fall or collision. Less friction means that the rider's head or neck is less likely to experience a sudden jerk and cause injury.

What to look for:
The outer shell should be smooth with no damage.
Avoid helmets with
Cracks or the inner shell peeling away (see example)
Stickers or attachments that were not part of the original design.
*Be wary of helmets with items such diamante stickers or soft foam spikes attached and/or with certification not relevant to bike riding. They may be visually appealing but they are not safe to use. You may also find items such as a high vis cover, helmet hat or mirror attachments. These affect the function of the outer shell.