Government Fit-out Standards
The Government Fit-out Standards have been developed by the Department of Infrastructure and Transport. They outline the State's workplace design approach and provide a set of guidelines for establishing standardised office accommodation in government owned and leased premises.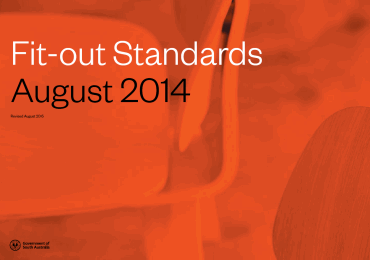 These standards provide a framework of office fit-out components that can be utilised to ensure that agencies are able to deliver strategic value over time by creating and managing workplaces that:
are efficient and flexible
maintain a quality standard and consistency
support business needs and enable improved performance
respond to varying agency requirements
provide a safe, secure and equitable work place for staff, customers and visitors
reduce the impact of government office accommodation on the environment.
What will the workplace of the future look like?
These standards address the fact that the public sector is changing as work increasingly becomes project based, delivered by teams of people drawn from a diverse workforce. The new workplace will be more collaborative and team based, with greater mobility supported by streamlined technology, yet still providing for individuals working alone. Please note a new Government Fitout Guidelines document is under development which will replace the 2014 standards document.
Government Fit-out Standards 2014
Space Usage Table
Microsoft Excel file used to calculate area and costs for proposed fit-outs.