Truro Bypass Project
The Australian and South Australian governments have committed $202 million (80:20) to fund the design and construction of a bypass at Truro which will divert heavy traffic along the Sturt Highway out of Truro's main street, improving safety and amenity, as well as freight efficiency. The Department for Infrastructure and Transport is currently in the early design stage of the project.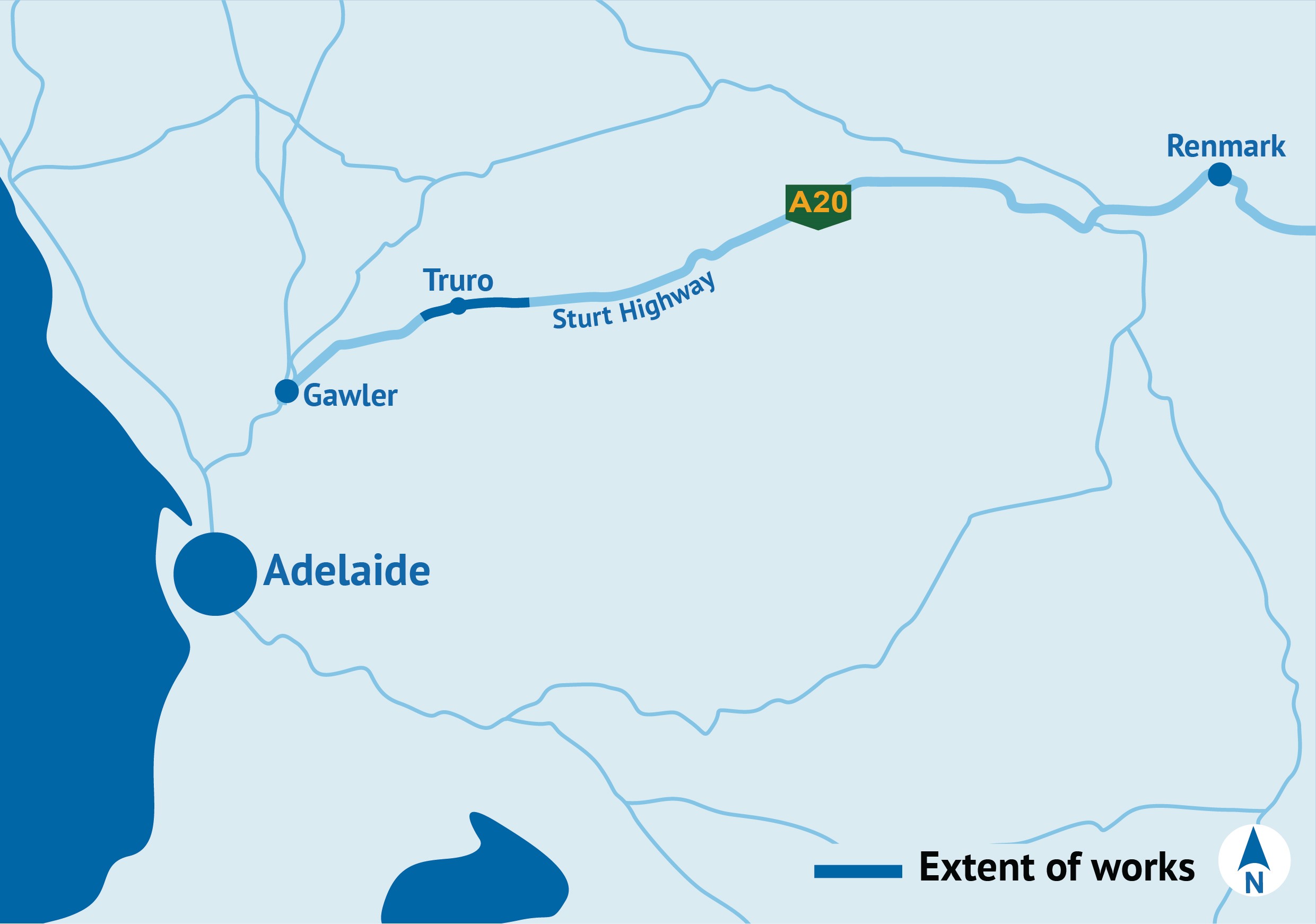 ---
Background
In October and November 2021, we engaged with the community on an indicative alignment for the Truro Bypass.
During this period we:
held four information sessions in Truro to meet the community and seek feedback attended by approximately 100 people;
met with businesses in the Truro main street to hear their interests and concerns;
received feedback via phone, email, website feedback forms and hard copy feedback forms collected at the
information sessions; and
have worked directly with potentially impacted landowners/lessees to negotiate access to their land for on-ground survey work.
The indicative alignment can be viewed here
---
Design Process Progresses
This refined alignment makes the following improvements to the previous indicative alignment:
has smoother curves and is less steep;
is a greater distance from existing homes north of the township – meaning less noise and visual impact;
has an improved intersection with Eudunda Road – improving safety and sight lines;
reduces the impact to traffic and freight operation during construction; and
utilises a portion of the existing Sturt Highway just west of Accommodation Hill, reducing property acquisition and improving environmental outcomes.
This alignment also incorporates alternative routes for machinery and stock movement and access to properties from Sturt Highway. We are still seeking feedback on the design for key access points to the new bypass.
Further investigation and survey works are required before a final design can be confirmed. We will continue to engage with the community to inform the detailed designs for the project and throughout its delivery.
We will continue to work closely with directly impacted landowners and thank them for their cooperation in allowing our survey staff onto their land.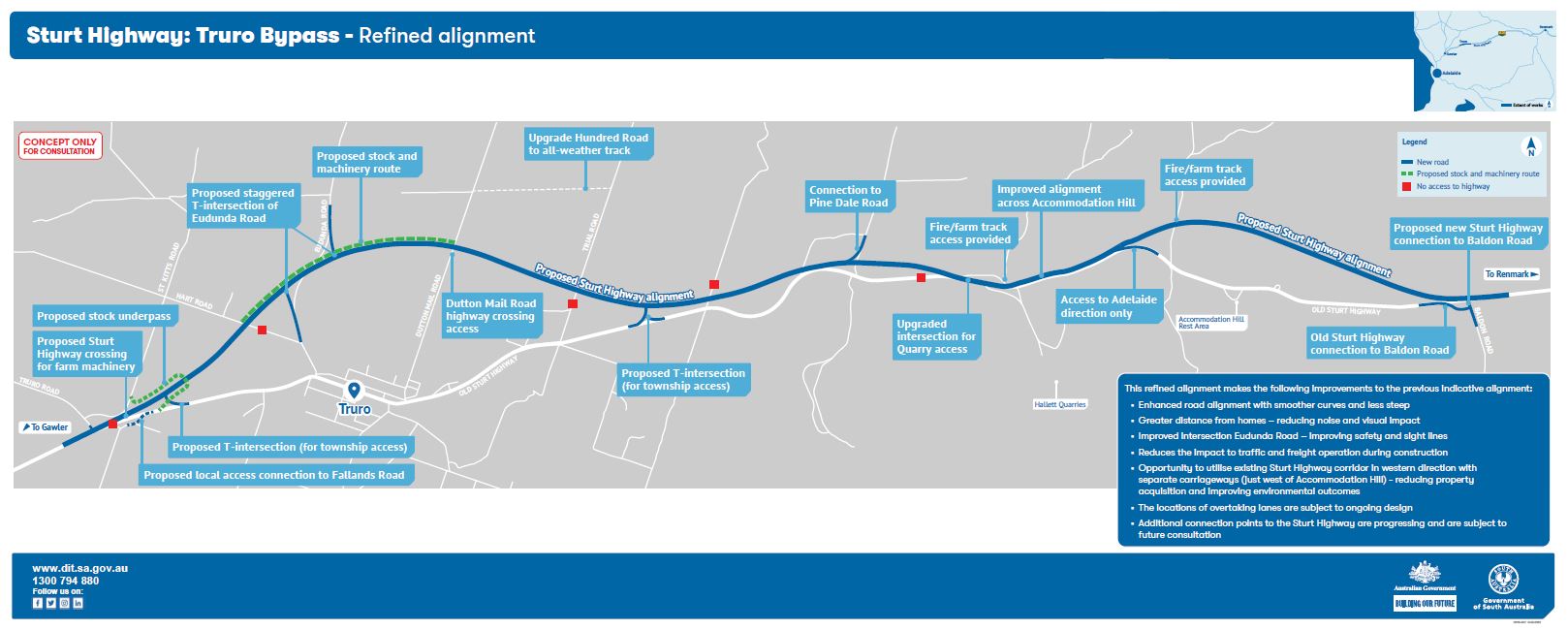 Construction of the Truro Bypass is expected to commence in early 2023 and be completed by 2025.
For more information on the project, please view the Truro Bypass Fact Sheet.
---
Next Steps
The detailed design process will progress throughout 2022. Investigation activities including environmental and engineering surveys and geotechnical investigations will continue to enable the design work to progress. The locations selected for the ground investigation and engineering survey works do not necessarily correspond to areas that will be impacted by the project in the final design.
There will be more community engagement about town enhancement initiatives later in 2022.
Construction of the Truro Bypass is expected to commence in early 2023 and be completed by 2025.
---
Have Your Say
It is important to us that you are well informed about this project and have the opportunity to speak with our project team and provide any feedback that you have.
Please contact the project team by:
---
COVID-19 Response
The Department will continue to tailor community engagement opportunities in line with the latest COVID-19 advice from health authorities.
Face-to-face engagement opportunities may be restricted and we will continue to be guided by the advice of health authorities, with the health and safety of our stakeholders always our highest priority.
Engagement with community and industry is crucial and we will facilitate information sessions as much as possible to enable face to face engagement. It is important to assist in managing these events that you register as requested to enable physical distancing as much as possible.
The project team will provide construction updates and work notifications via social media, letterbox drops, emails and the Project website. We are also available to speak via telephone (1300 103 456).
We encourage the community to register for email updates.
Contact Us
To find out more, provide feedback, register for an information session or for project updates, please:
Email: DIT.communityrelations@sa.gov.au
Phone: 1300 794 880