Have your say on the Mount Barker Interchange Upgrade
Background
An upgrade to the Mount Barker Interchange is proposed as part of the $250 million Hahndorf Township Improvements and Access Upgrade Project, funded by the Australian and South Australian governments on an 80:20 basis.
Why is this upgrade planned?
An upgrade at this location is required to improve capacity, safety and access.
Each day around 36,700 vehicles currently use this interchange. Drivers experience significant congestion and queuing. Without any upgrade, this is expected to get worse as new development continues in the area. This upgrade is also particularly important from a safety perspective. There were 31 crashes at this location between 2016 and 2021. Twenty-four of these crashes involved casualties.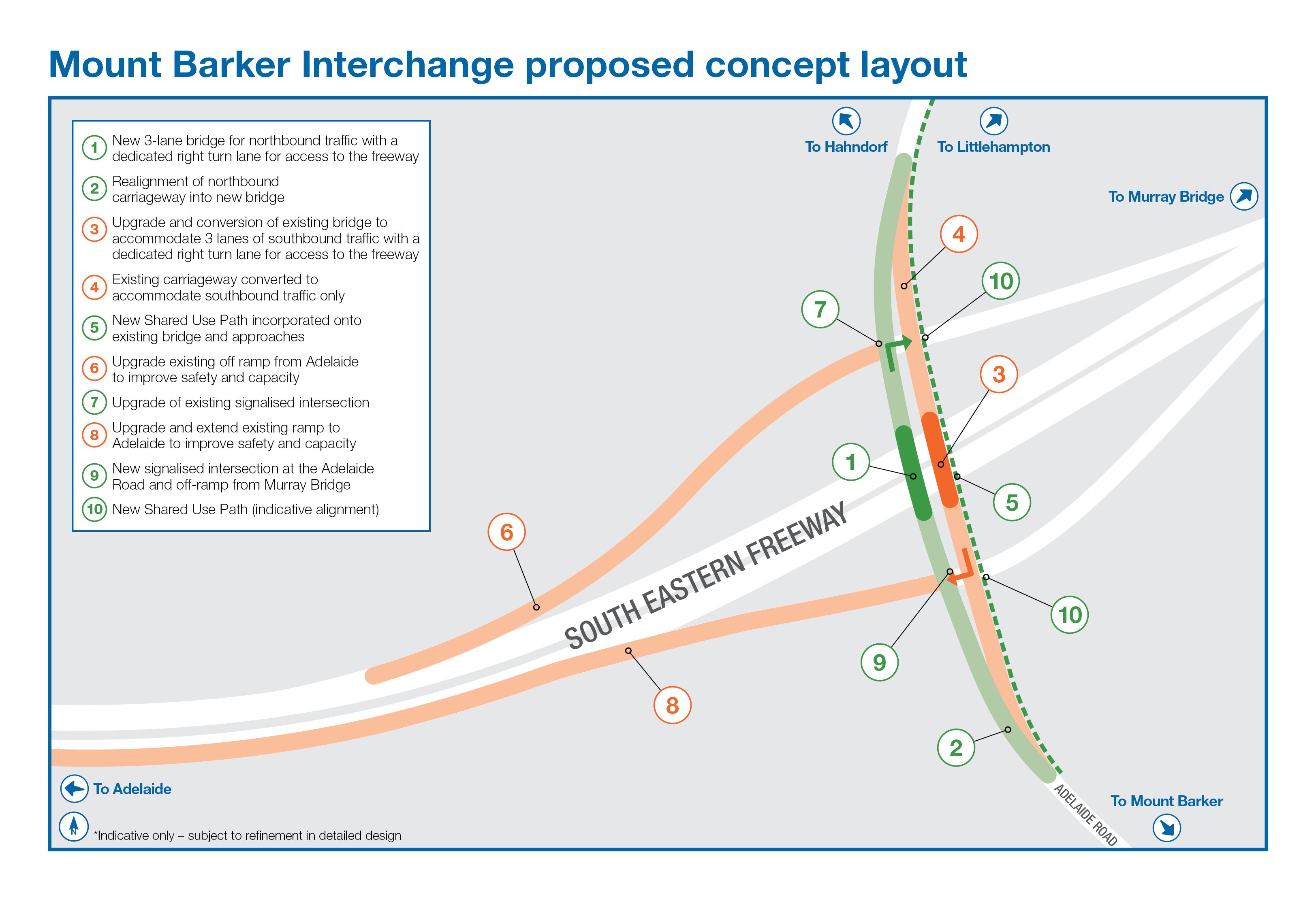 Key features of the Mount Barker Interchange Upgrade
The key features of the Mount Barker Interchange upgrade include:
a new 3-lane bridge over the South Eastern Freeway for northbound traffic with a dedicated right turn lane for access to the freeway (towards Murray Bridge);
upgrade and conversion of the existing bridge to accommodate three lanes of southbound traffic with a dedicated right turn lane for access to the freeway (towards Adelaide);
a new Shared Use Path incorporated onto the existing bridge and approaches;
upgrades to the existing ramps to and from Adelaide to improve safety and capacity;
a new signalised intersection at the Adelaide Road and the off ramp from Murray Bridge.
See the proposed concept layout. No private land is impacted by this proposed upgrade.
Next steps
Feedback on the proposed Mount Barker Interchange upgrade concept concluded on Thursday, 10 March 2022. This feedback is being reviewed and will be used to inform the final interchange upgrade design. Construction is planned to start in 2023.
If you have any questions about the project please: