DPTI Matters - 15 May 2020

A word from the Chief Executive
If you have any comments, suggestions, questions or concerns, please email them to telltony@sa.gov.au.
---
Stepping up on Flinders Link Project
The Flinders Link Project got a lift in the truest sense recently, when the first steel lift core structure was installed on the eastern side of Main South Road.
Lift and stair facilities will be available on either side of the road to access the shared-use path adjacent to the elevated rail line. The steel lift core structure weighs 5.3 tonnes and is about 14 metres high. The second one will be installed in the coming weeks.
It's great to see the team making solid progress with this key project which will create new connections to the health, innovation and education precincts.
---
Paving the way for a new generation
I was pleased to receive a letter acknowledging the great effort by our staff in helping out a Year 12 student during the difficult COVID-19 period.
Planning and Transport modelling analyst Chris Mayer stepped in to offer guidance and support for the student, who is studying Industrial Design and focusing on transport modelling.
Chris joined a Microsoft Teams chat to answer some general transport modelling questions and provided an overview of systems and models used for different conditions, as well as offering real-world advice on a specific intersection the student was studying. Thanks for your efforts, Chris, and also to Andrew Krause, who was the initial point of contact for the school.
---
Catching out senseless behaviour
Our Traffic Management Centre has received a note of thanks from SA Police for its role in helping to convict a driver behaving in the most irresponsible of ways on the new Northern Connector.
The team provided information taken from point-to-point speed cameras, which take photos of number plates, of a P-plate driver who was caught travelling at excessive speed.
Our traffic operations team deserve full credit for their contribution to helping stop such senseless, high-risk behaviour.
---
Showing support for LGBTQI+ community
While we might not be able gather physically for the International Day Against Homophobia, Biphobia, Intersexphobia and Transphobia (IDAHOBIT) this year, we can still show our support for our LGBTQI+ community and colleagues on Sunday 17 May.
This year's theme is "Breaking the Silence", aimed at empowering conversations and breaking down the stigma of gender and sexual diversity.
The Department of Human Services and the South Australian Rainbow Advocacy Alliance will co-host a live Q&A session on this year's IDAHOBIT theme on 17 May.
We encourage all staff to wear or display a splash of rainbow on IDAHOBIT or to work on Monday.
---
Opening the door to learner's licence tests
Aspiring drivers wanting to sit their learner theory test can now do so again after the service was temporarily suspended due to COVID-19 safety concerns.
Safety provisions are in place, including limits on numbers to ensure social distancing, with no more than one person per four square metres. Additional cleaning of equipment and adjacent areas is also taking place.
There has been a strong demand for the return of this service and the team at Service SA have done a great job in planning to bring this about. More information is available here.
---
Providing a link to uplifting information
The State Government has released a new statewide wellbeing initiative, through Wellbeing SA, aimed at building community resilience and supporting physical, social, mental and community wellbeing in response to the COVID-19 pandemic.
At a time when many are feeling the effects of social distancing and an avalanche of concerning nightly news, the Open Your World initiative aims to help South Australians connect with relevant uplifting information, providing hope and motivation to learn new skills and to stay active, healthy and connected with family, friends and our community.
I encourage you to visit the new website, then share it with friends and family.
---
Lighting up to increase road safety
Our Transport Project Delivery team has been overseeing the installation of LED line marking into the road pavement on the Panalatinga Road exit ramp, from the Southern Expressway, and at the intersection of Panalatinga, Kenihans and Main South roads.
The In Pavement Lights will improve visibility for road users and allow drivers to easily navigate the intersections, especially during low light and poor visibility conditions. They are linked to the traffic signals and, when operating, will only activate when traffic is passing in the direction of the lighting. The photo below shows the lights being tested, before being linked to the signals.
The lights are a great safety initiative and those who are behind it should be proud of their work.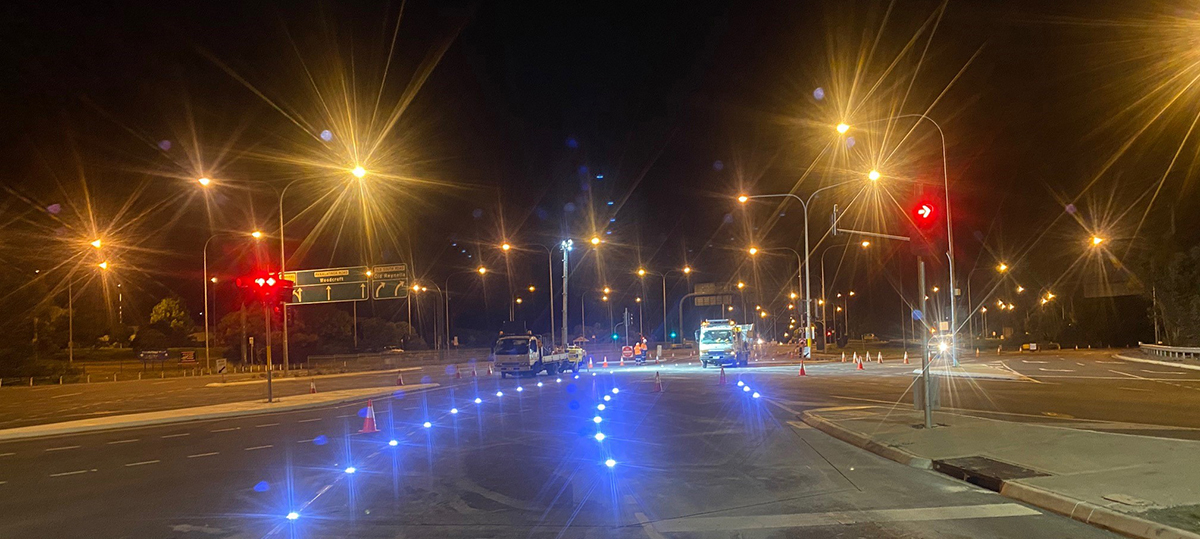 ---
Giving our best for respected police officer
Thank you those involved in assisting SA Police in the planning and smooth travelling of the funeral cortege for Chief Superintendent Joanne Shanahan, who died in a car crash in Adelaide last month.
The cortege travelled an 11km route over several suburbs, and our Traffic Management Centre played an important role in its uninterrupted transition, allowing police officers and the public to pay their respects from the roadside as it passed by.
An expression of thanks from SAPOL described the work as being performed to perfection, which is exactly what we set out to deliver for one of our most respected police officers. Well done.
---
Friday Flashback
If you've ever wondered what a fire brigade response looked like in the days of the horse and cart, this week's Friday Flashback has the answer, via some silent film of the dashing Adelaide Fire Brigade in action in 1912.