Testimonials - General Recruitment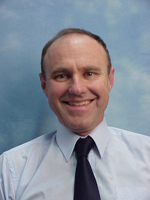 Andrew Falkenberg Senior Surveyor, Contracts and Standards, Transport Services Division
(Surveyor from Private Sector)
I came to the department 12 months ago with approximately 25 years experience in the private sector. I was employed as a licensed surveyor and director of a medium sized survey firm. My reasons for joining the public service was to experience working in a larger organisation and to have flexibility of hours to correct my work/life balance.
The most enjoyable part of working within the department has been the opportunity to develop my skills in different areas. I have had some involvement in the development of the survey section and have been included in the coordination team.
From a contract management perspective, the most satisfying project has been the Northern Expressway development. I administered a contract to supply aerial photography for the 25 kilometre proposed route between Port Wakefield Road and Gawler.
My plans for the future are to assist in the development of a more structured data collection methodology within the department. The capture and maintenance of data sets are planned to be managed in a more integrated format.
---

Giang Ngo Professional Officer, Regency Park
(Naval Architect from Private Sector)
I completed a Bachelor of Naval Architecture at the University of New South Wales. I then spent a few years working in the design office of a marine consultant firm in Queensland before returning to Sydney to work for a marine design firm specialising in design of high speed crafts.
I became aware of a vacancy in the department through a friend who was working here. I researched the position and found that it could really offer me many opportunities to develop my career both in terms of technical expertise and project management skills. These skills were exactly what I was looking for at the time.
I applied for a position in the department through a recruitment agency in late 2005, and following the success of my application I began to work for the department in early 2006.
In my current role as a plan approval Naval Architect, I am responsible for the safe operation of commercial crafts through examining their design to ensure that they possess adequate structural and stability characteristics. I have enjoyed dealing with a wide range of people including boat owners, builders, designers, and many others associated with both the department and the boating industry. I am currently involved in the development of the National Standard for Commercial Vessels.
The department has supported me in furthering my education. I have been to training courses, attended various management and leadership learning modules, and allowed time off work to attend lectures at university. My goal is to progress and attain a charter engineer status and I believe this job provides me with an excellent opportunity to acquire it.
---

Teena Steel Administration Officer, Office of Major Projects and Infrastructure.
(From private sector)
After completing Year 12 in 2002, I joined the workforce in the wholesale industry. I spent four and a half years in a clerical position which assisted and oversaw the operations of a national wholesale operation.
After viewing the government website, Notice of Vacancies, which was referred by a friend, I applied for a position with the Department of Planning, Transport and Infrastructure (DPTI).
I applied for my current position with the department because I wanted a role which would provide me with more opportunities and challenges. My new role is amazing.
The people are so friendly and welcoming and the opportunities are endless.
I have been with DPTI for approximately three months now and have met some very inspirational people. This position offers a wide range of training options and experiences which will definitely be helpful in my future roles.
My only regret is not applying sooner!
---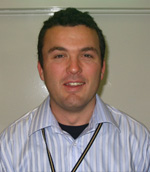 Thomas Butchart Ferry Services Engineer, Fleet Management & Mechanical Services, Transport Services Division
(From private sector)
I am a Mechanical Engineer with a Graduate Certificate in Management and Certificate 4 in Workplace Training. My engineering degree was completed in 1998 at University of SA Levels Campus.
I chose to work in the department as I wanted to be part of something bigger. I saw the position advertised in The Advertiser and joined the department at the end of May 2007.
Previous to this role, I have held the position Test Engineer for Mitsubishi, both in Australia and Japan. Other roles at Mitsubishi have included looking after tyres for both Northern Territory and South Australia and operating as an engineering consultant.
My current role involves working between head office in the city and the Morgan Dockyard looking after the ferry crossings for the State. I work with people of all levels and disciplines and that keeps the role interesting. I love the variation in the role. Working for a family friendly employer was high on my priority list for choosing the department. The flexi-time arrangements are great. I am currently enjoying the role and look forward to the challenges that are coming up.